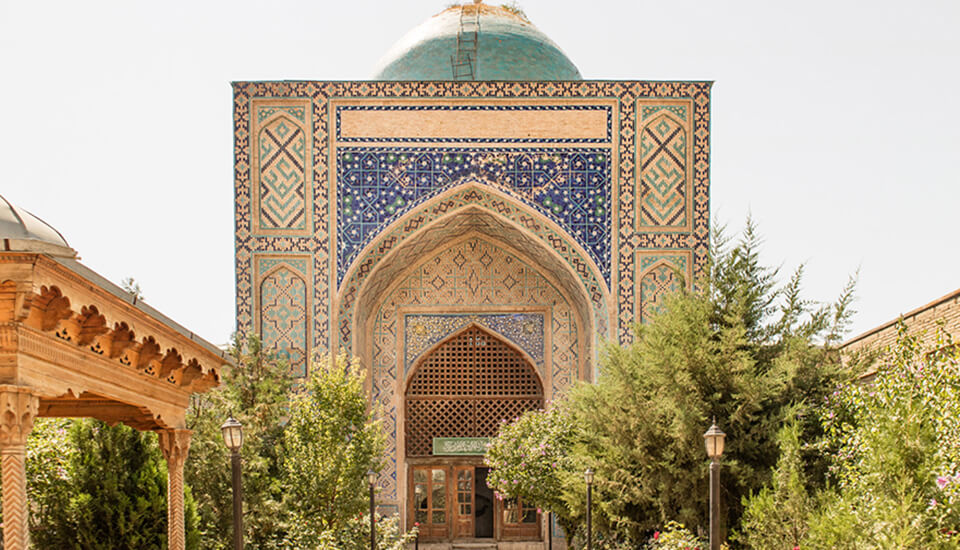 The 15th century Abdullatif Sultan Madrasa is also known as Kök Gumbaz (Blue Dome) because of its turquoise Timurid dome. The madrasa is still very lively because of the crowd of children running around in the courtyard.
This madrasa was built by order of Abdullatif Mirza, who lived between 1420-1450. He was known as "Padarkush", which translates as "patricide". He became the ruler of Transoxiana by killing his father Ulugh Beg and his brother Abdulaziz. His bloody reign was short-lived, after 6 months on the throne he was assassinated by his followers. The madrasah, which was ordered to be closed during the Soviet era, was reopened in the 1990s but now in use as English school for boys.
The beautifully furnished entrance portal is made in the Timurid style, a regular design seen in Samarkand, Uzbekistan. A mix of blue tiles of different hues is interspersed with white and yellow shapes and symbols. The dominant shapes used are flowers. The main attraction is the domed roof and the altar. The interior of the dome needs painting, but you can appreciate the Persian style of the slightly elevated dome with vents below for lighting and airflow.
Above the mihrab is a sculpted arch decorated in pink and white. There are Persian inscriptions in this area and several silver figures are also seen. This honeycomb design was popular in the 16th century. The columns of the madrasa are decorated with bricks. The courtyard area is beautifully landscaped with short trees and rose bushes. A well is located under a picturesque wooden structure with a tin roof.
While Uzbekistan is full of Timurid architecture, it is very difficult to find such buildings in Tajikistan. However, it is an outstanding example, hidden among the old town of Istaravshan. Kök Gumbaz is one of the oldest buildings in the city. It is found deep in the winding streets of Shahr-e-kuhna (Old Town). The building is a brick structure and its famous blue dome can only be seen from the northern area outside the madrasah. This is a treasure worthy of itself one day Tajikistan Silk Road UNESCO list.