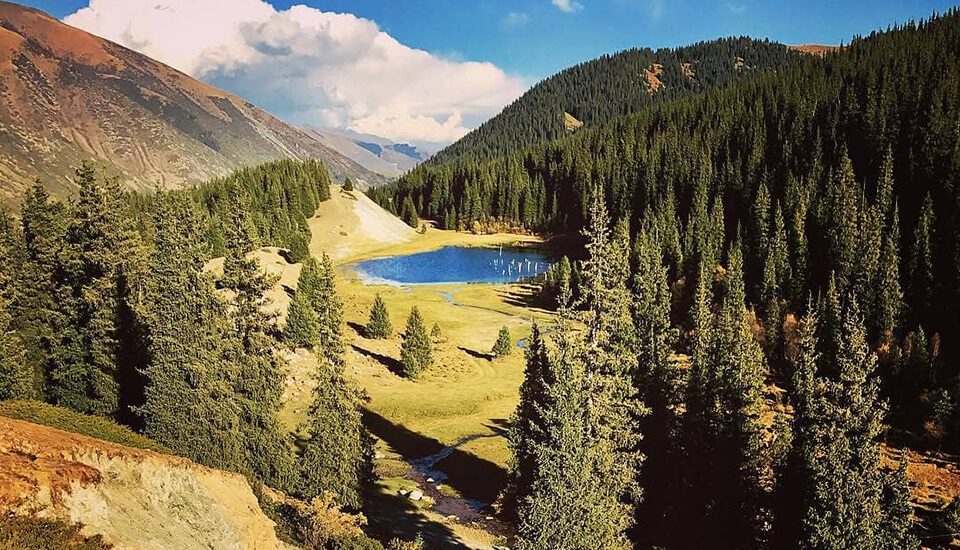 Issyk-Kul (warm lake) is the largest lake in Kyrgyzstan. It is also the second largest high mountain lake in the world after Lake Titicaca, and Issyk-Kul is an important biological and economic resource for Kyrgyzstan.
The lake has no drainage, and the water is a little salty. The name "warm sea" comes from the fact that the lake never freezes. This makes it an important resting place for migratory birds. Issyk-Kul is among the oldest lakes on earth, about 25 million years old. The high age is due to tectonic forces that cause the bottom to sink in so that the lake is not filled with sediments.
One of the northern routes to the Silk Road passed near Issyk-Kul, and there are many traces of ancient civilizations. Tourism is now an important industry for the areas around the sea. It is claimed that the water has healing properties, and there are many spas. There are over 100 accommodation for tourists, mainly on the north bank. Most visitors come from Kazakhstan, Russia and Uzbekistan.
The sandy shore of Issyk-Kul is 320 km, and it is the most important and promising tourism region of Kyrgyzstan. The lake, which is rich in fish, is both a nature protection area and a place of rest and vacation. On the coast, there are cities named Karakol, Cholpon-Ata and Balikchi. In addition, the lake has been the scene of a novel by Chingiz Aitmatov.
A century ago, the lake was not entered as it was believed to be sacred, but today, Kyrgyz, Kazakhs, Siberian Turks and Russians are the most frequent tourists to enter the lake, since it is a tourism area. The south shore, notably less equipped than the north shore, offers wild and picturesque landscapes of great beauty, as well as easy access on foot or on horseback to the summer pastures and the highlands located beyond 4000 m.
Finally, the town of Karakol is a logistical base for mountaineering expeditions to the Khan Tengri massif located 150 km to the south-east. One of the largest sets of petroglyphs in Kyrgyzstan is found at Cholpon-Ata. The city of Karakol was once called "Prjevalsk" after the Russian transliteration of the name of the Polish explorer Przewalski, subject of the Russian Empire, who died there. It is the administrative seat of the province of Yssykköl. The town is located near the eastern end of the lake.