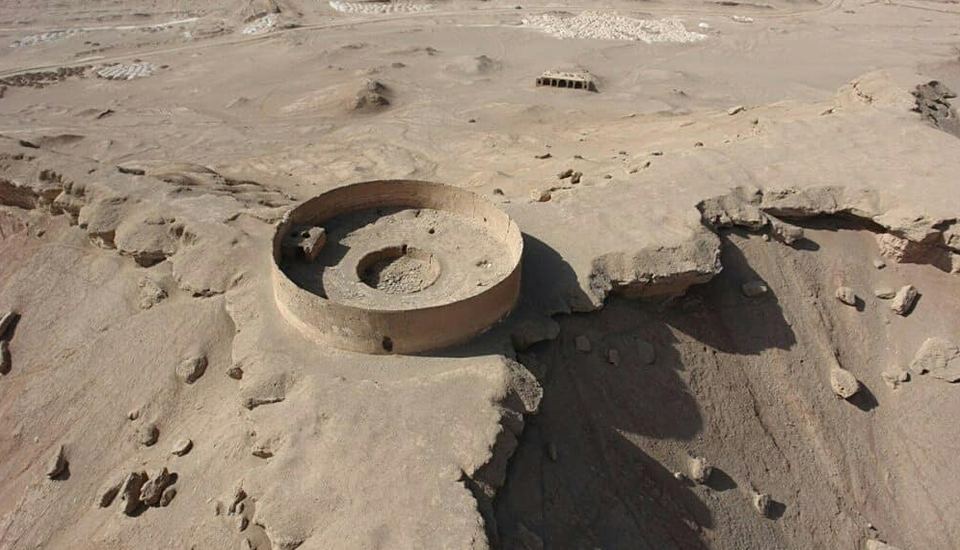 The tower of silence or dakhma is a circular structure used for the funeral rites of Zoroastrians. For the latter, when a man dies, his immortal soul, three days later, is carried away by the wind to the place of judgment, on the bridge of Chinvat. Corpses were considered impure objects that could not be put in the ground, in water or even thrown into fire without infecting one of these three elements. Only the king's corpse was divine and therefore entitled to a tomb.
During Antiquity, the Persians believed in a supreme and immaterial god: Ahura Mazda. Below him, Ormuzd (Good, Light and Life) and Ahriman (Evil, Darkness and Death) fight over men. No one escapes death. This is how the funeral rituals of the Zoroastrians also spare no one. When a man dies, his soul is immortal and three days after his death, it is carried by the wind to the place of judgment, on the bridge of Chinvat. The acts of the deceased are weighed in the balance of the three judges. Absolved soul gains light and eternal happiness; condemned one falls into the abyss of darkness and pain; if good and evil balance each other, the soul remains in the abode of equal weight. However, with the virtual disappearance of vultures, in order to preserve their custom and for hygienic reasons, the dead are buried in waterproof coffins, so that they are never in contact with the ground.
The towers of silence of Yazd in Iran were built several centuries BC. It is a platform 20 meters in diameter surrounded by a stonewall, four meters high and covered with cob. In this circular arena, you can only see the sky. The large towers are made up of several concentric circles: the outer circle is intended to accommodate the corpses of men; you will see the next one, which receives those of women and a third, the remains of children. In the center of the tower is a circular pit intended to accommodate the bones.
During your walk, you will walk through the beautiful Dasht-e kavir desert. When you are at the towers, admire the simplicity and bareness of the place, the plain blue of the sky and the golden light of the sun on the cob of the wall. All of this will fill you with happiness!