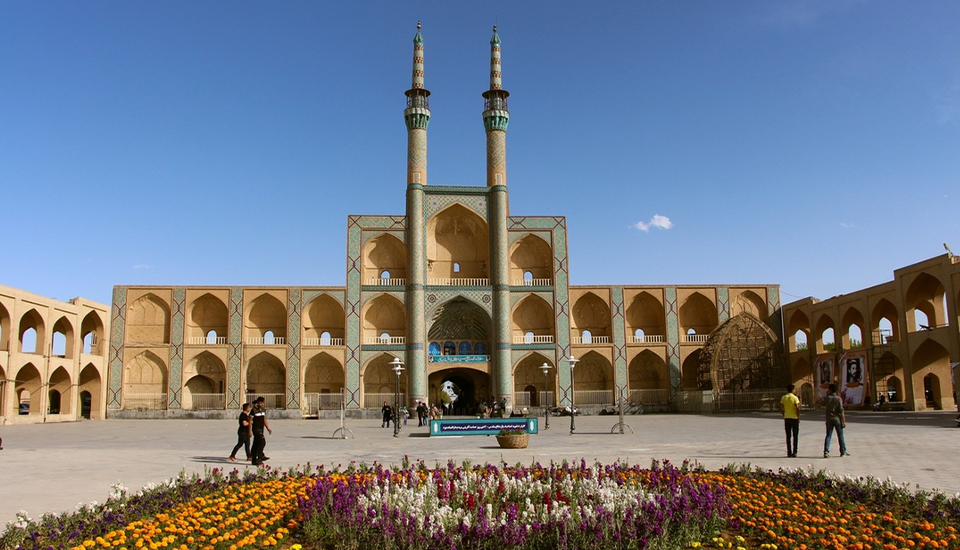 Fire or "Atar" is an element of great importance for Zoroastrians. Yazd being the cradle of this religion, you cannot take a tour of this city without discovering the fire temple in which burns a sacred fire maintained by Zoroastrian priests for more than 1000 years. Whether it is a legend or a proven fact, you will love visiting the temple because of the many lessons you will learn from it. It is therefore a mandatory stopover.
Jameh mosque a magnificent building that is worth seeing. With its towering minarets rising high into the city sky, this mosque is a Yazd gem. The view is certainly magnificent from the outside, but you would have to take a walk inside to appreciate the superb decorations. The use of materials such as ceramics and earthenware contributes to the singular charm of this religious place. Between the superb prayer hall and the Mihrab of 1365, this 14th century building highlights the Azeri style of Persian architecture.
Half an hour drive from the city of Yazd is like lost in the middle of nowhere, in the desert at more than 1200 meters above sea level. You can visit a Zoroastrian burial site there and you will learn the rather original way of the practitioners of this religion of disposing of the bodies of their deceased. Finally, you will discover Cham's Tower of Silence. It is perched on a hill at the foot of which are the ruins of Khaiele. Note that the Tower of Silence plays a prominent role in Zoroastrian funeral rites.
Amir Chakhmaq complex is composed of a mosque, a bazaar, a caravanserai and a tekiyeh. The latter is a place where the Tazieh is celebrated, which is a Shiite ceremony to commemorate Husayn Ben Ali (Imam Hossein), a grandson of Muhammad. The beautiful facade of the complex and the many fountains give a unique charm to this square. You will certainly spend pleasant moments there while enjoying a coffee or having a drink on one of the many terraces of the complex.
Between the towers of the wind and the beautiful narrow streets of this city at the gates of the desert, you cannot dream of better. There is so much to discover in this part of the city and the calm that reigns there contributes to its charm. You can also visit the old bazaar and take magnificent photos on its roof from which you have a majestic view of the whole city.