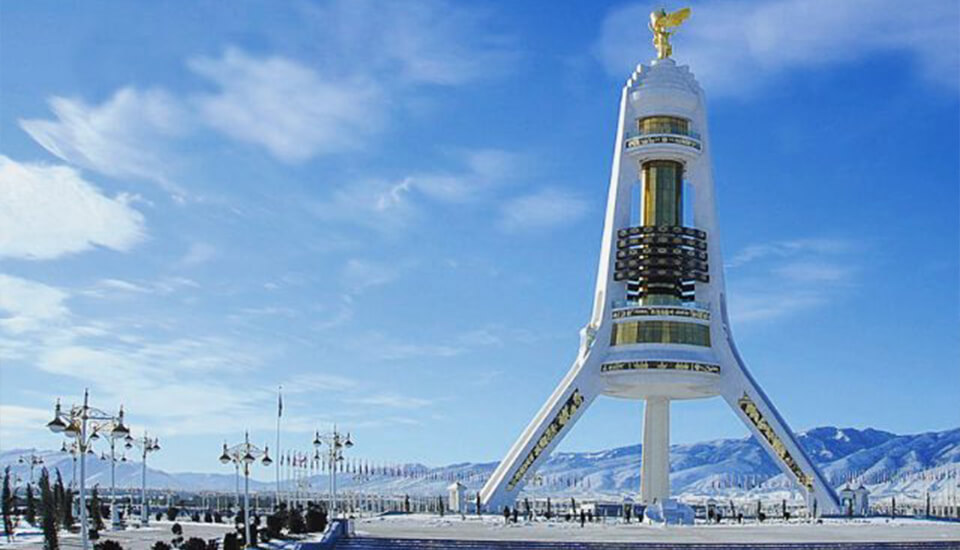 The Monument of Neutrality, a symbol of the commitment of Turkmenistan and the Turkmen people to the ideals of peace, creation and goodness, was built at the foothills of the Kopetdag Mountains, in one of the most beautiful corners in the south of the capital. It was constructed and opened in honour of the adoption of a special Resolution 'Permanent neutrality of Turkmenistan' at the 50th anniversary session of the UN General Assembly on December 12, 1995.
The height of the Monument is 95 metres. The three-legged structure is inspired by 'tagan' or a Turkmen hearth support, symbolizing the strength of the state. The pylons of the arch are interconnected by discs and rings of different diameter and thickness, on which observation platforms are located. Two horizontal elevators run along the pylons and take visitors to the first level of the Monument. Here, at a 21,5-metre height, a café bar has an excellent view of the city. A panoramic elevator lifts people up to a height of 50 metres, to the observation terrace. The Monument is topped with a 12-metre tall sculptural composition, including in a waving flag and a gold-plated statue of the first president of Turkmenistan, Saparmurat Niyazov.
The Monument is faced with white marble; the pylons and the lower cylinder are decorated with bas-reliefs with fragments of the history of Turkmenistan. The vertical part of the pylons is surrounded by five bronze rings with national ornaments from the Turkmen carpets. The Monument houses the Museum of Neutrality, with the exposition dedicated to the modern history of Turkmenistan. In the evening, the gigantic building shines in the coloured lights.
A park area with fountains, gazebos and cafés is provided near the Monument of Neutrality. In the evenings and on weekends, Ashgabat's residents love to recreate on the green lawns in the park. People are attracted by the clean mountain air and the beauty of the Monument. The paths in the park serve as 'tracks' for environmentally friendly transport, the bicycle, which can be rented here.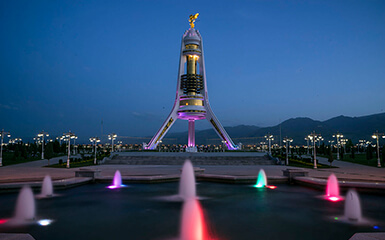 badkhyz museum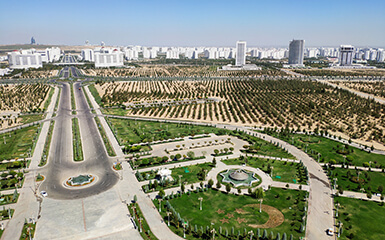 deer