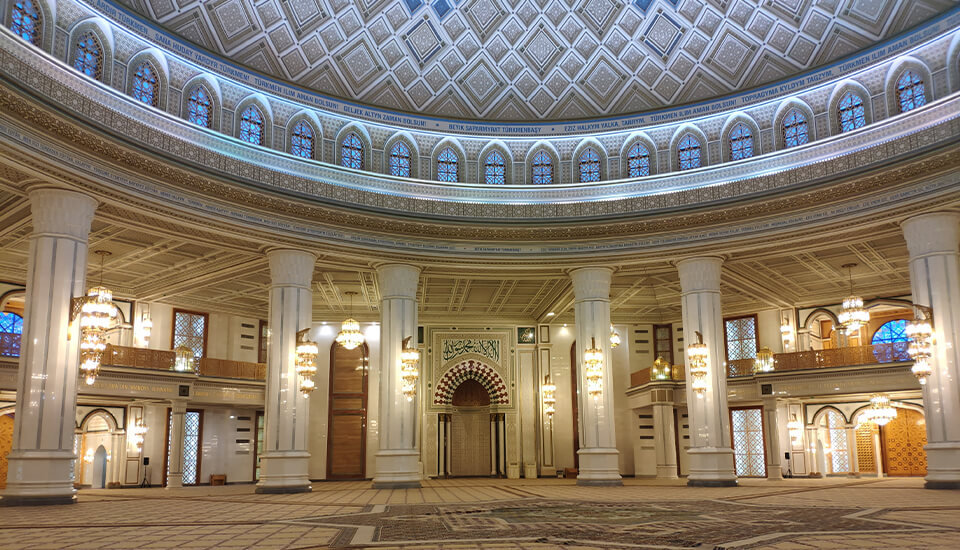 The Turkmenbashi Ruhy (in Turkmen 'spirit of Turkmenbashi') Mosque is a national treasure and pride of the Turkmen people, included in the list of landmarks in Turkmenistan.
The pilgrims who come to the country to worship holy places visit this mosque. Tourists arrive here to see the world's largest single-domed mosque and the largest Muslim shrine in the region. The mosque was named after the first President of Turkmenistan, Saparmurat Niyazov, who had the title of Turkmenbashi.
The landmark is located in the home village of the founder of the independent Turkmen state – Gypjak, which has been incorporated into the city of Ashgabat since 2013.
The interior of the spiritual shrine is decorated with scriptures from the Koran, and quotations from the works by Saparmurat Turkmenbashi in the Turkmen alphabet are written on the walls of the minarets. Tourists will not find a must-see like this anywhere in the world. Besides the main entrance, the building has seven other entrances, with the arched gates and cascades of fountains in front of each. All four 91-metre minarets symbolize 1991 – the year when Turkmenistan was declared independent.
The Turkmenbashi Ruhy Mosque has a capacity of 10000. Excellent conditions have been created for the faithful. A powerful ventilation system and floor heating are provided. The floor is covered with a giant 215-metre carpet made in the shape of an eight-pointed star by the Turkmen carpet weavers.
Special premises were built for ablutions and ritual events for 5000 people on the territory of the mosque. An underground parking lot for 100 buses and 400 cars is provided.
The majestic mosque strikes the eye with both the architectural design, and the beauty of the surrounding area, which has turned it into a blossoming oasis. It should be noted that 25 hectares out of 36 of the total area is occupied by a picturesque green area, amazing in its beauty and careful selection of millions of exotic trees, shrubs, ornamental flowers, which were specially imported from Italy, Spain, and a number of other countries and planted here, at the foothills of the Kopetdag Mountains.
The president's mausoleum was also built next to the mosque. To date, it houses five sarcophagi. The father of President Sapamurat Niyazov, who perished in the battlefields of World War II, his mother and two brothers, who died during the 1948 earthquake, rest in four of them. The first president of Turkmenistan, Saparmurat Turkmenbashi was buried in a sarcophagus in the centre of the hall. Opposite the entrance to the mausoleum, there is a memorial complex built in memory of those killed during the 1948 earthquake.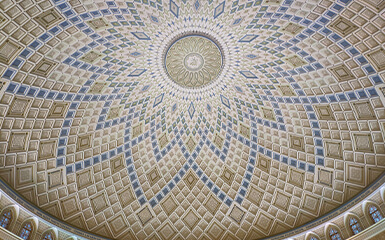 badkhyz museum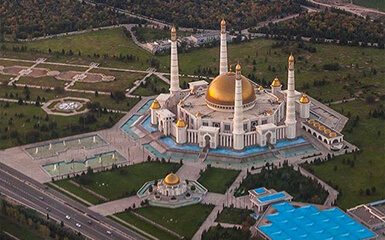 deer