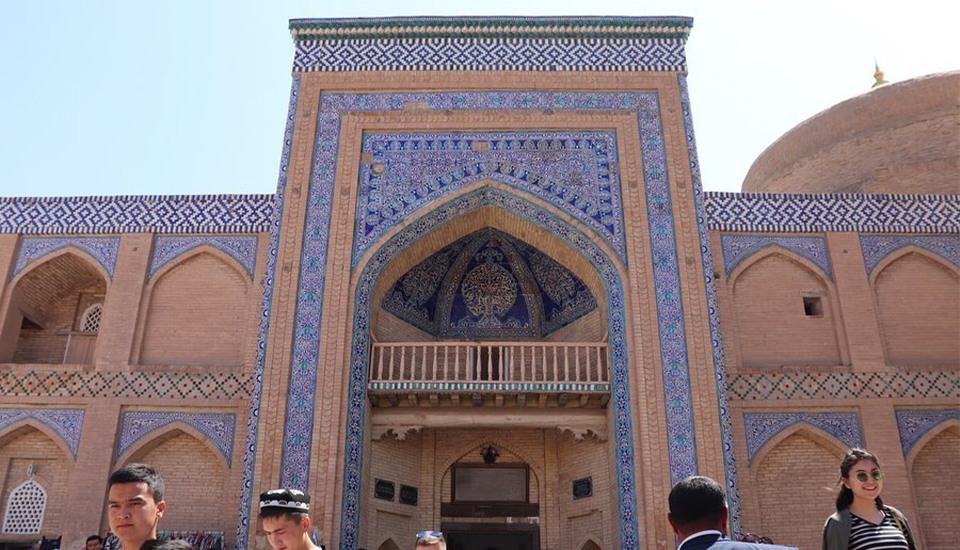 The Alla Kuli Khan Madrasah is located at Palwan-Darwaza, the east gate of the old town of Khiva. It is part of the UNESCO World Heritage. A first madrasah, the madrasah Khodjamberdi Bei, was built on this site in 1688. 150 years later, the Khan of the Khiva Alla Kuli Khanate chose the location for his new, larger madrasah. Due to the structural constraints in this area, it became necessary to demolish part of Itchan Kala's city wall and the main wall of the old Khodjamberdi Bei madrasah. Parts of the old madrasah became the foundation of the new madrasah Alla Kuli Khan, while the remnants became the madrasah Khurdjum.
For a rich income, the new madrasah Alla Kuli Khan was awarded about 9000 hectares of irrigated land as a waqf, the merchant passage Tim immediately to the north and the Alla Kuli Khan caravanserai. The mosque is located in the southern part of the portal, which is decorated with blue ceramic tiles. The lecture halls are located in the northern part. Above the portal are Khujas for a library donated by Khan Alla Kuli. This was open to the students of all madrasas in the city.
Allakuli Khan Madrasah has several two-storey hujras. On both sides of the entrance were, as usual, a mosque and an auditorium (darskhana). Above the entrance was a large library for that time (kitabkhana), which served the students of all madrasahs in Khiva and was in great demand by the students of Khiva. The main portal-peshtak and four courtyard portals, tympana of arches and belts on the facades are faced with majolica. A small madrasah of Khodjamberdi bei (1688) was located on the site of the front yard; during the construction of the Allakuli Khan Madrasah, it was included in its ensemble; cut in two by the entrance, it received the figurative name Khurdjum - "saddle bag". An original two-story building was formed, and walking along the facade of the Allakuli Khan Madrasah, one can look from above into the cramped courtyards of the Khurdjum madrasah. The total area of the building is 62.45x47.0 meters, the area of the courtyard is 34.6x29.4 meters. The total number of hujras is 99.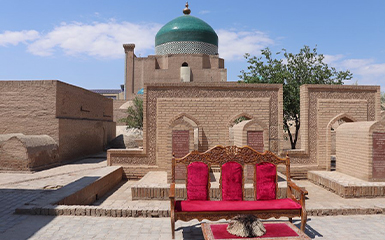 The Alla Kuli Khan Madrasah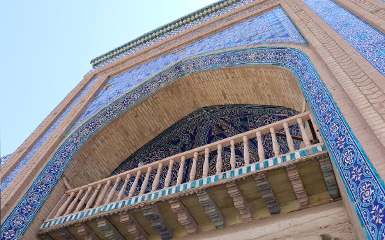 The Alla Kuli Khan Madrasah