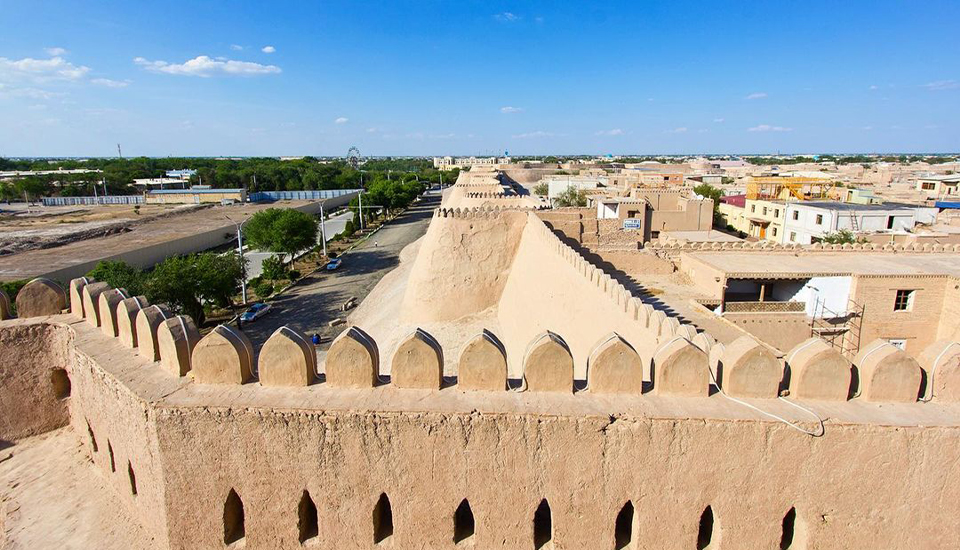 Citadel Kunya Ark is located in the inner city of Khiva, Itchan-Kala, in modern Uzbekistan. Until the overthrow of the Khiva Khan by the Bolsheviks in 1920, Kunya Ark served as one of the khan's residences. The Kunya Ark complex that exists today was restored at the beginning of the 19th century.
Ark is a fortress and palace of the ruler inside the city. In Khiva, the term "Ark" was understood as the palace of the ruling khan, which included his reception room, a place for hearing complaints or an audience room (arz-khana). After the new palace complexes of Tashkhauli and Nurulla-bai were built in Khiva, the former khan's palace began to be called Kunya Ark (old fortress), although it partially retained its former functions.
Kunya Ark connects the western wall of Itchan-Kala with the abode of the hermit Ak-sheikh-baba. The construction of Kunya Ark began in 1686-1688 by the son of Anush Khan, Arang Khan. At the end of the 18th century, Kunya Ark became a "city within a city" and was separated from Itchan-Kala by a high wall. Once the fortress consisted of the khan's office, a reception hall, a harem, a winter and summer mosque, a mint and auxiliary premises: stables, warehouses, workshops, etc.
The square near the entrance to Kunya Ark was used for military parades and training battles. There was also a special place for the execution of sentences and a zindan (prison) adjacent to the eastern walls of Kunya Ark. The entrance to the palace was guarded. Only a few buildings remained from the once densely built-up area of Kunya Ark: the eastern gate with a guard room; cell of Ak-Sheikh-Baba; kurinishkhana - a room for the reception and registration of people; summer and winter mosques and harem.
The first building, the kurinishkhana, was built in 1686-1688 by Arang Khan and destroyed in the middle of the 18th century, during the invasion of the Iranians. The modern building was erected in 1804-1806 by Eltuzar Khan. Ivan of the kurinishkhana was covered with majolica during the reign of Allakuli Khan. Kurinishkhana consists of several rooms: an open courtyard, an aivan, a hall with a throne and side rooms in the western part of the courtyard (the khan's treasury, a room for storing manuscripts, rooms for rest). In the middle of the courtyard there is a circular dais where the yurt stood, in which the khan received the ambassadors of the nomadic neighbours. The khan's throne stood at the southern wall of the throne room; now this throne is in the museum of Moscow. It was made of wood and covered with plates of silver with delicate carvings made in 1816 by the Khiva master Muhammad.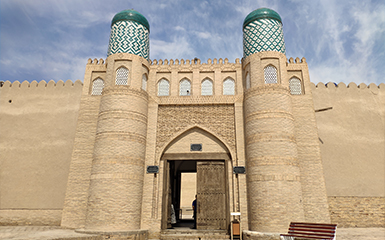 entrance of Kunya Ark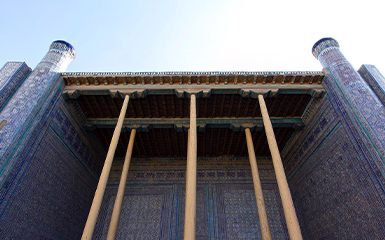 Inside of Kunya Ark