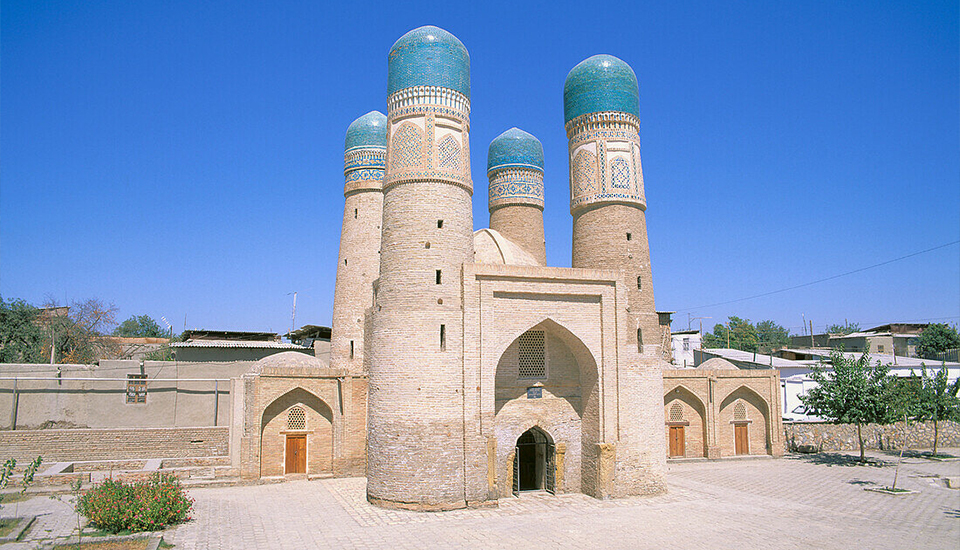 Char Minar (Chahar Menar) is a gate building in the Uzbek city of Bukhara. In addition to the Kalan minaret, it is the city's second landmark. The gate building is located in the east of the historical centre of Bukhara about 500 meters northeast of the Lyab-i Hauz building complex and about 1 km southwest of Fayzabad-Khanaqa in a residential area on the north side of a small square.
Char Minar was originally part of a madrasa believed to have been built in 1807 by Khalfa Niyazkul, a wealthy Turkmen merchant. The madrasa was 92 meters long and 40 meters wide. A bright columned hall was arranged as a summer mosque within their courtyard.
Of the whole complex, only the gatehouse and the adjoining single-storey annexes, which originally contained living cells for the students, have been preserved. Only the foundation walls of a few other cells have been preserved.
In 1995 one of the four towers collapsed as a result of an underground brook, whereupon the sight was immediately removed from the tourist sightseeing program. Apparently the authorities felt the event as an embarrassing disgrace and they tried to leave the place in the dark so much that foreign visitors were amazed the following year that even official city guides had no idea of the collapse of one of the towers because the building was no longer listed on their tour program. But they hastily set about restoring it. In hardly any travel guide is there a mention of the newly built fourth tower of this Bukhara landmark.
Char Minar is a two-story brick building with a footprint of 19 × 9 meters. It has a pointed arched dome reinforced with ribs. There are 17 meter high towers at the four corners of the structure. The building takes its name from them. However, the towers do not fulfil the function of a minaret, but merely serve to decorate the building. They have domes made of light blue glazed bricks. The upper sections of the towers are also provided with patterns made of glazed bricks, which are designed differently on each tower, otherwise the walls are left in brick shell construction. A staircase in a tower leads to the upper floor.
In terms of its architectural layout, Char Minar is unique in Central Asia and is more reminiscent of Indian models. This makes it one of the most original buildings from the Mangit era in Bukhara.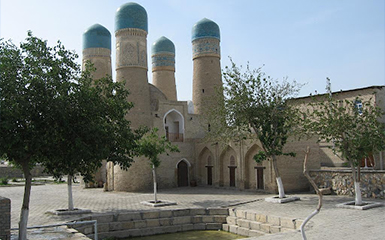 Chahar Menar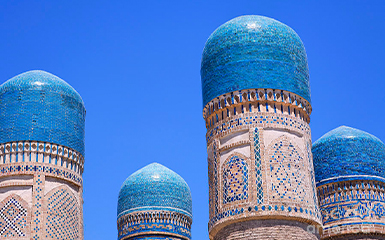 Artwork of Chahar Menar