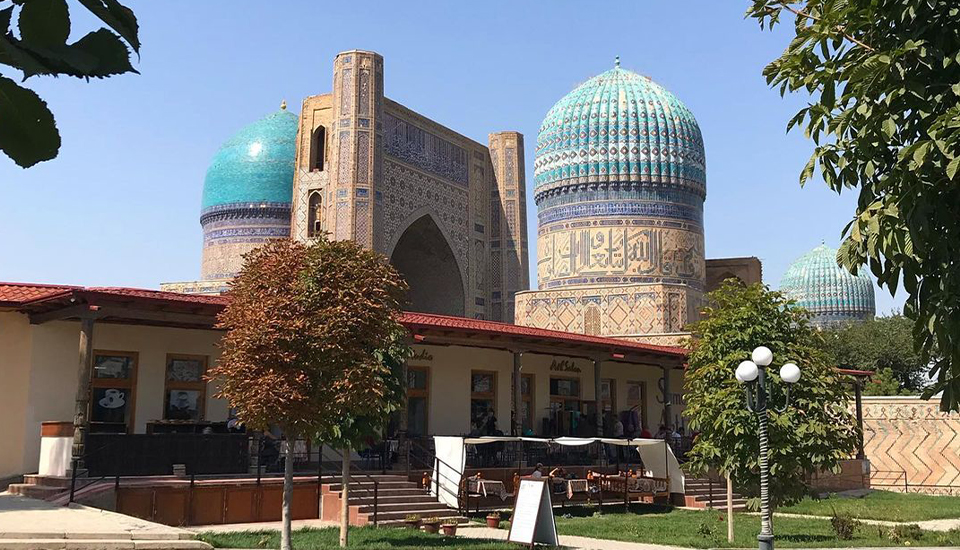 The mosque of Bibi Khanym is one of the most important sights of Samarkand. In the 15th century it was one of the largest and most magnificent mosques in the Islamic world. Only a grandiose ruin remained of it until the middle of the 20th century, but in the meantime significant parts of the mosque have been restored through restoration.
The Bibi Khanym mosque was built from 1399 to around 1404 on the orders of the Central Asian ruler Timur (Tamerlane). Previously, Timur had expanded his power from Syria to India in several successful campaigns and had risen to become the most powerful ruler in the Islamic world. With the construction of the new Friday mosque (main mosque) in his capital Samarkand, Timur wanted to set an example of his power and his political and religious claims. The building, the construction of which he temporarily monitored and corrected himself, could not be fully completed by his death in 1405.
It is unclear when the name Bibi Khanym came up. In the middle Ages, the mosque was always referred to as the great mosque or Friday mosque. Historically, Bibi Khanym cannot be proven as the name of a wife of Timur. In Persian, Bibi is also more of a general honourable term in the sense of venerable woman, especially as a respectful salutation for the paternal grandmother. A romantic legend later grew up around the origin of the mosque, in which Bibi Khanym, Timur's favourite wife, is portrayed as the builder.
The Bibi Khanym mosque follows the basic type of the courtyard mosque: its outer walls enclose a rectangular area with the dimensions 167 by 109 m, which runs lengthways roughly from northeast to southwest - according to the qibla. Its monumental buildings and covered galleries leave an inner courtyard of 78 by 64 m in the middle.
In the 20th century, the ruins of the Bibi Khanym mosque still impressed visitors to the city with its enormous dimensions and the precious furnishings that can still be recognized. The first fundamental investigation and securing of the ruins was carried out in Soviet times. At the end of the 20th century, the Uzbek government began restoring the three domed structures and the parade portal. The decoration of the domes and facades is also being painstakingly restored and supplemented.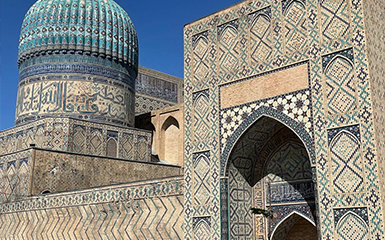 The Bibi Khanym mosque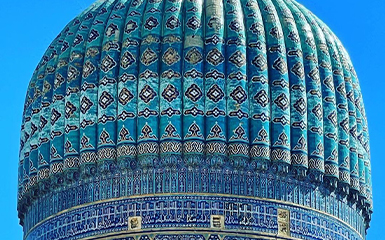 The Bibi Khanym mosque