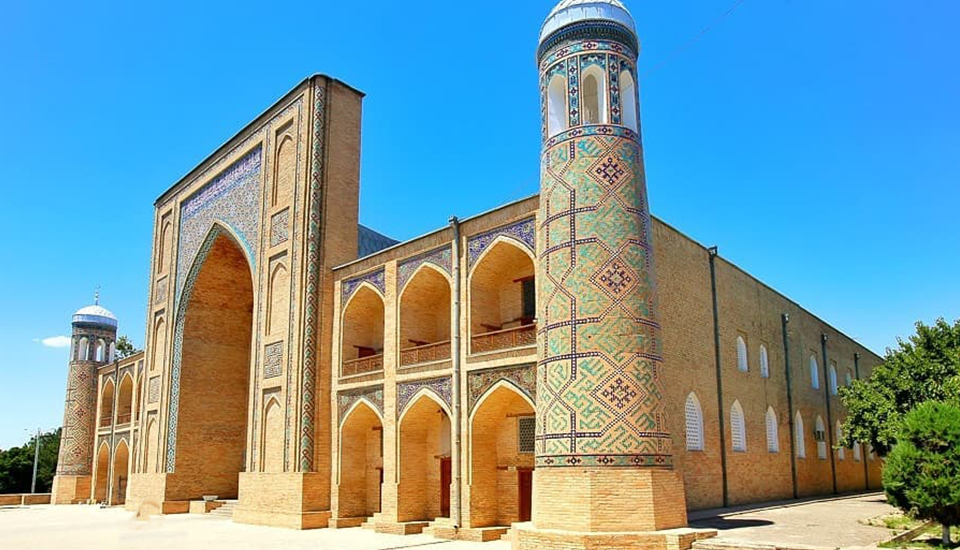 The Kukeldash Madrasah is a Madrasah in Tashkent, the capital of Uzbekistan. It is the most important madrasah of the twenty-three in the old town of Tashkent. It was built at the latest in 1568-1569 by the minister (vizier) of the Shaybanid sultans, Barak Khan and Dervish Khan, and took the name of "Kukeldash", which means "milk brother", that is - that is to say in fact "friend of heart". This is how the trusted dignitaries of the sultans were named.
Located in Chorsu Square in the city centre. It is built by Kulbaba (1551-1575). The main side of the madrasa faces south. There is a mosque on the left and a classroom on the right. The roofs of mosques and classrooms consist of domes mounted on intersecting arches. Its courtyard is large (38x26.9 meters), surrounded by rooms and open terraces. There are 38 rooms around the courtyard, connected to the classroom and the mosque. The madrasa was originally three-storied. The architects decorated the madrasa, focusing on the front of the building.
The high peshtak with a canopy, 19.7 meters long, leads to an interior courtyard in which give the two floors of hujras which are sixty, two meters by two meters. These consist of a bedroom and a canopy niche. Formerly the cells were occupied by two or three students of Koranic theology. Corner towers on each side of the portal, the muezzins announced for daily pray. The madrasah was no longer in use in the eighteenth century, according to the testimony (written in 1795) of the merchant of Tashkent, Nur Muhammed, and had already served for a long time as a simple caravanserai, then it served as a fortress and prison in the nineteenth century of the time of the khanate of Kokand. It is here that were thrown, from the top of the parapet, the adulterous women who were imprisoned in a sewn sackcloth and fell on the ground of the place strewn with sharp stones. This penalty was abolished in 1865 when the Russians arrived.
The portal suffered from the earthquakes of 1866, 1886 (its vault collapsed that year) and 1977. It was fully restored in the 1930s, then 1950-1960 and partially rebuilt after the terrible earthquake from 1977. It is still regularly undergoing restoration work.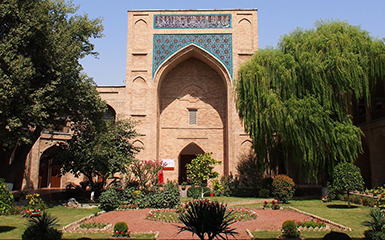 The Kukeldash Madrasah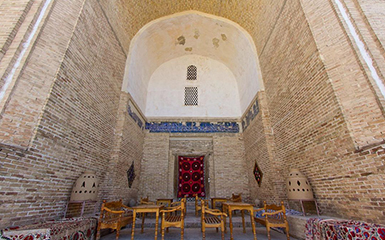 inside of The Kukeldash Madrasah