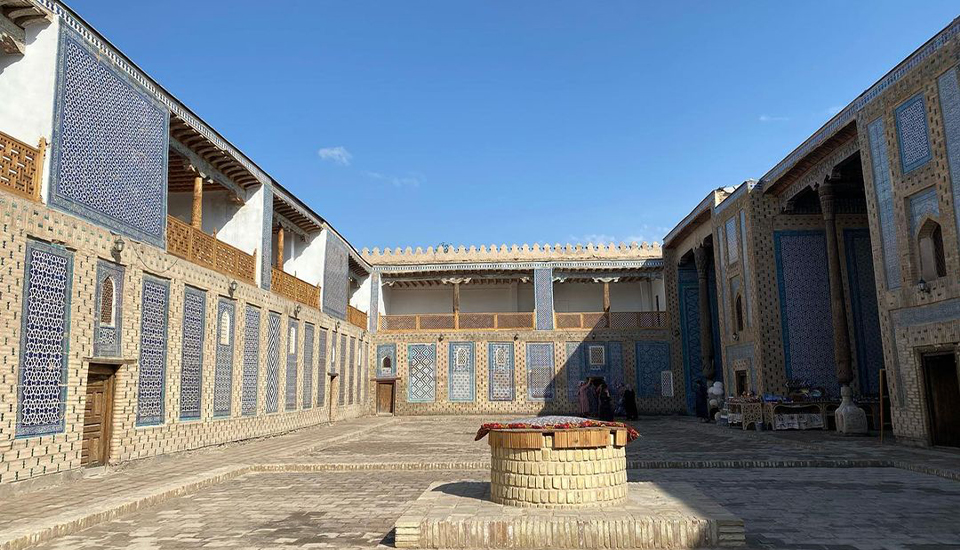 Tash Hauli (stone courtyard) is a palace in the east of Itchan Kala, the historic old town of Khiva, a UNESCO World Heritage site. It was built in the first half of the 19th century. Since the 20th century, Tash Hauli has been used as a museum.
Under Khan Alla Kuli, the ruler of the Khiva Khanate, the urban centre was relocated to the east of the city at the Palwan-Darwaza city gate between 1830 and 1840. There the madrasah Alla Kuli Khan, a caravanserai, and the merchant passage Tim were newly built. Khan Alla Kuli also had a new palace built there, the Tash Hauli.
The construction of the palace was to be carried out emphatically and quickly. The builder master Tadshi Khan is said to have been impaled on the orders of Khan's Alla Kuli after he refused the instruction to complete the construction in two years. Ultimately, the builder master Kanlandar Chivak built the Tash Hauli over a period of nine years.
Tash Hauli consists of three independent parts. In the northern half is the residential complex and harem, in the southeast the parade room for the reception of the Khan's guests - Ishrat Hauli, Court of Pleasure - and in the southwest the court for other receptions and court hearings - Arz Hauli. In the centre of the Ishrat Hauli farm there is a rounded elevation on which the khan's felt yurt was built, in which distinguished nomadic guests were received. The individual areas of the palace are connected to one another via a labyrinth of unlit corridors and rooms.
The Tash Hauli's decor is outstanding. In the palace, for example, there are complex ornamental workings of carved pillars and doors, colourfully patterned ceiling paintings, wall coverings with ceramic tiles with majolica. Parts of the braided and plant ornaments have cartouches in which the name of the master Jinn Abdullah is noted.
The harem of Tash Hauli is separated from the official part by a corridor. It has own yard and the southern part of the manorial house is occupied by five main rooms. These each have an iwan, a living room and an adjoining room. The south-eastern apartments were occupied by Khan Alla Kuli. The other four belonged to his legal wives. Concubines, relatives and servants lived in the two-story rooms on the sides of the inner courtyard. The exterior of the palace is reminiscent of a fortress with high walls, a crenelated crown, towers and fortified gates.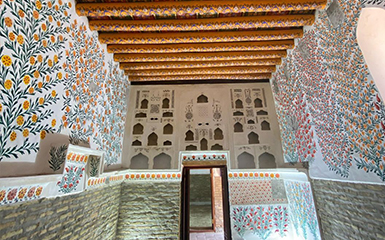 the madrasah Alla Kuli Khan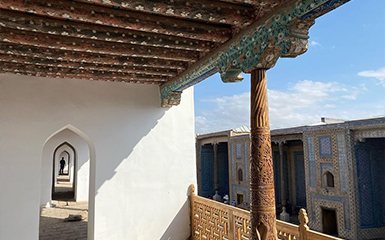 inside of the madrasah Alla Kuli Khan