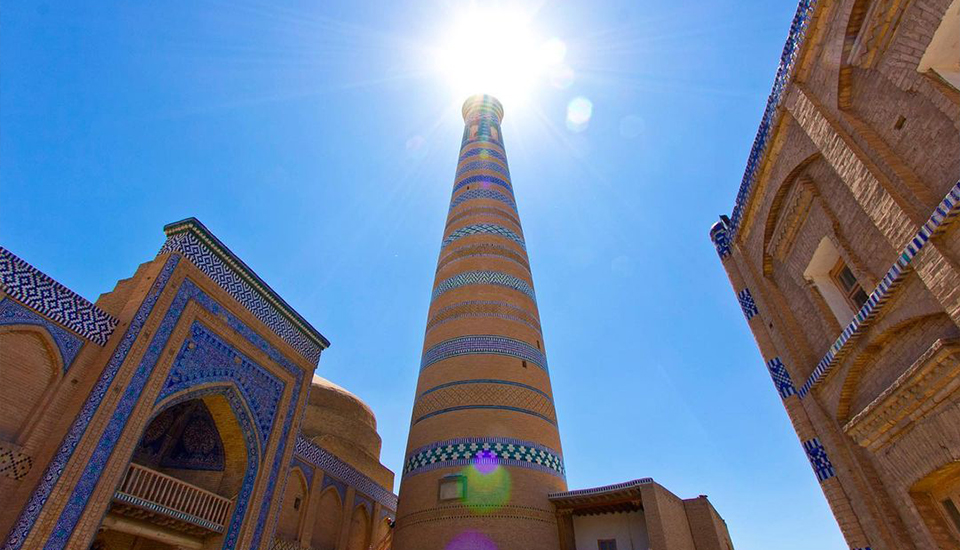 Minaret of the Islam Khodja is in Khiva, located in the centre of the citadel of Itchan-Kala, part of the Islam-Hodja complex, together with the madrasah of the same name. It is the tallest structure in old Khiva, its height is 56.6 meters, and with this indicator it is the second highest minaret in Central Asia, and in first place there is the Kutlug-Timur Minaret in Kunya-Urgench with a height of more than 60 meters.
The construction of the minaret and madrasah of Islam-Khoja began in 1908, at the initiative of the father-in-law and chief vizier of the ruler of the Khiva Khanate Isfandiyar Khan - Islam Khoja. The diameter at the base of the minaret is 9.5 meters. Inside the pillar is a winding brick staircase leading to the platform of the rotunda - a lantern resting on protruding rows of masonry, decorated in the form of a magnificent stalactite cornice - a sharaf. At one time, the minaret performed several functions. It was at the same time an observation tower, also had a religious function, in particular, it was used for adhan to the nearest mosque. It was also used to call the population to the nearest square to read the decrees of the rulers and other reasons.
Madrasah Islam Khodja is a madrasah in Khiva, located in the centre of the citadel of Itchan-Kala, part of the Islam Khodja complex, together with the minaret of the same name.
The Islam Khodja madrasa forms a structural ensemble with the Islam Khodja minaret and stands east of the Pahlawan Mahmud memorial and was built in honour of Said Islam Khodja. He was murdered in 1913 as part of a conspiracy.
The madrasah was built between 1908 and 1910. It has a small yard. The madrasah Islam Khodja has 42 hujras (cell like rooms). The main facade is clad in the tympanum or in the semi-dome of the portal with striking blue and white ceramic tiles with majolica. It also has a glazed band pattern. It is flanked by towers.
The mosque occupies the south-eastern part of the Islam Khodja madrasah. This has a low massive dome. The mosque's mihrab niche is separated by blue tiles with majolica and stucco work. The madrasa with the mosque is used as a museum.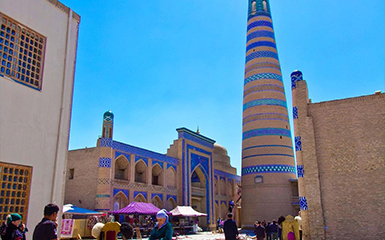 Minaret of the Islam Khodja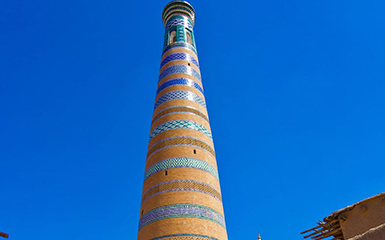 Minaret of the Islam Khodja