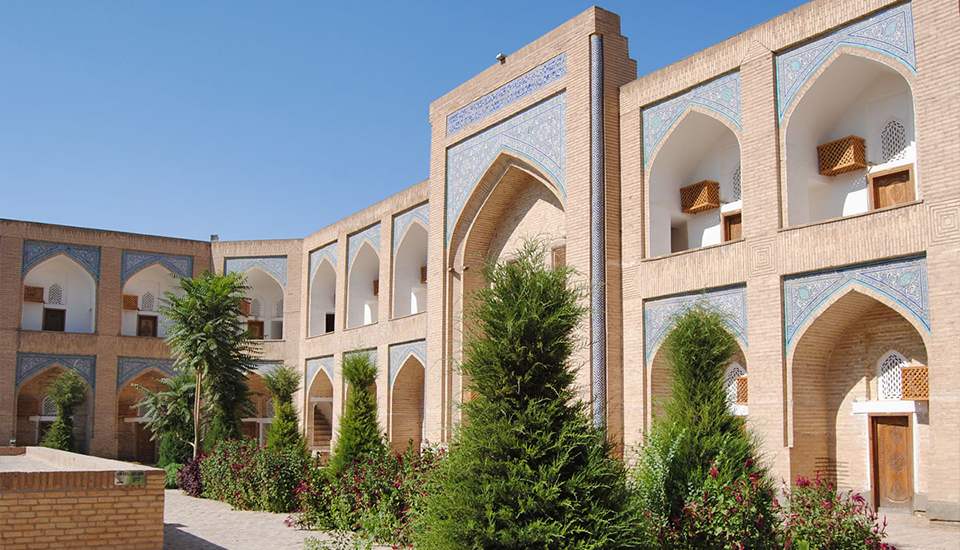 Madrasah of Muhammad Emin-khan is an architectural monument, a building of madrasah in the historical centre of Khiva, erected in 1852-1855 at the expense and by order of the Uzbek ruler Muhammad Emin-khan. Located in the western part of Itchan-Kala, adjacent to the Kalta-Minar.
Madrasah of Muhammad Emin Khan is the largest and has the richest tiled facing in relation to other Khiva madrasahs but not the largest. As part of Itchan-Kala in 1990, it was included in the list of UNESCO World Heritage Sites. Currently, it is an object of tourist service and display, where the hotel of the tourist complex "Khiva" is located.
In Khiva, the former capital of Khorezm, more than two dozen madrasahs have survived, but many more were built. In the fourth year of his reign, the ruler of Khorezm, Muhammad Emin-khan (1846-1855), ordered the construction of a madrasah and a minaret near the western gates of the Inner Fortress (Itchan-Kala), opposite the southern facade of the rulers' fortress (Kunya-Ark). The construction of the madrasah was carried out in three years (1852-1855).
At the madrasah of Muhammad Emin-khan in 1852, the construction of a grandiose minaret was started, which, according to the khan's plan, was to surpass all existing in Central Asia in height. It remained unfinished and is now called Kalta-Minar.
Since 1979, the Madrasah of Muhammad Emin Khan, together with the Madrasah Muhammed Niyaz Divanbegi, has been the tourist complex "Khiva", adapted to serve domestic and foreign tourists. The former houses a hotel, and the latter houses a restaurant.
The main facade of the Muhammad Emin Khan madrasah is separated from the street by an outer courtyard surrounded by a wall with a domed entrance.
The madrasah is two-storied. It is the largest in Khiva and repeats the traditional compositional scheme, consisting of a five-domed entrance group and a four-aivan courtyard, surrounded by two floors of hujras. But the hujras are divided in two here, which in turn determines the design of the loggias of all four facades (and not only the main one) by arcades, which is unusual for Khiva madrasahs: its side facades, as in the Bukhara Kukeldash, received an architectural design - deep lancet loggias-niches of hujras open onto them second floor.
Most of the inscriptions in the Muhammad Emin Khan madrasah were compiled by the famous poet, historian and translator Agakhi. All the inscriptions on the courtyard portals of the madrasah are written in nastalik handwriting (also in italic style) on majolica tiles. The letters are white on a dark blue background.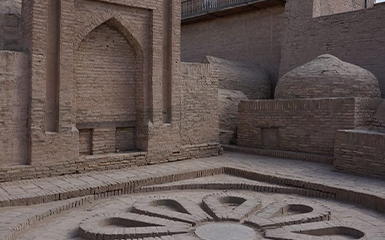 Inside of madrasah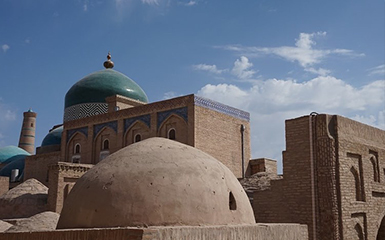 architectural monument