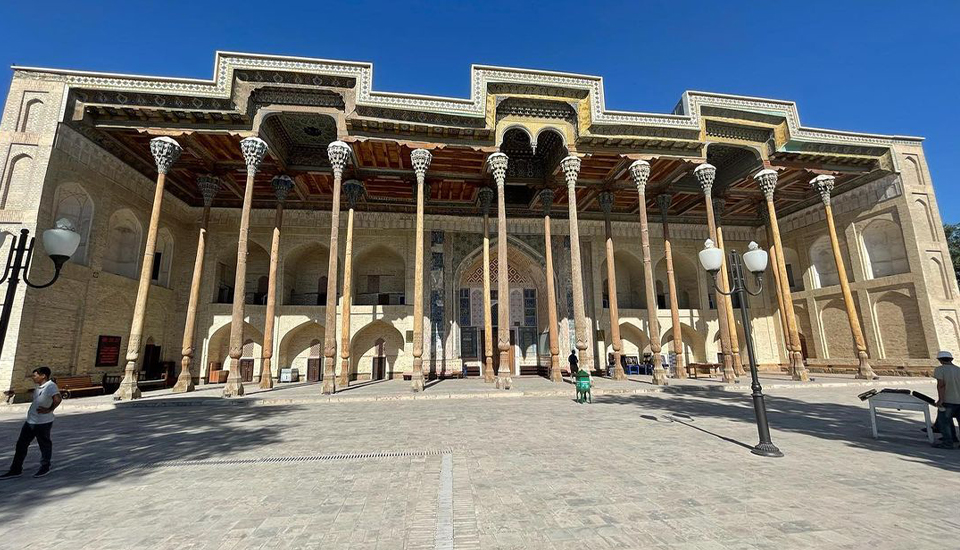 The Bolo Haouz Mosque is a mosque in the Uzbek city of Bukhara. The mosque is located in the northwest of the historical centre of Bukhara on the west side of the Registan opposite the Ark Citadel. In front of the mosque there is a pool of water in which its vestibule is reflected, and to the side of it a minaret.
The water basin in front of the mosque is older than the mosque itself. It was one of the numerous artificially created ponds that used to supply water to the population and of which only a few have survived. The pool was named Bolo Haouz (children's pond).
The Bolo-hauz mosque was built at the expense of the mother of the Uzbek ruler Abulfayz-khan. Before the Revolution it served as the main Friday mosque of Bukhara, where the Emir of Bukhara prayed. The winter mosque and haouz were built in 1712, the facade of the winter mosque was obscured by the painted aivan of the summer mosque on hypertrophied elongated columns. According to M. Yu. Saidjanov, the aivan was repaired in 1917. In the same year, the minaret was built by the architect Shirin Muradov.
The Bolo Haouz Mosque consists of a domed rectangular building oriented in an east-west direction with a base area of 27 × 20 m and a 42 m wide porch in the east with a 10 m deep open vestibule. Two rows of 12.50 meter high thin wooden columns with carved stalactite capitals support the brightly painted and richly decorated coffered ceiling of the vestibule. The dome building served as a winter mosque, the Ivan as a summer mosque.
The transverse building has two-storey pointed arch arcades facing the vestibule with three arches on each side of the main entrance. Behind each arcade there is access to a cell in the transverse building.
The water basin is square with bevelled corners and a side length of about 20 meters. The walled edge of the pool leads in steps to the surface of the water. On the left side of the mosque, i.e. the south side of the ensemble, is the minaret between the mosque and the basin.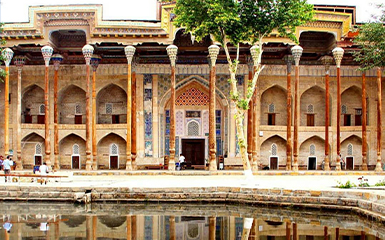 The Bolo-hauz mosque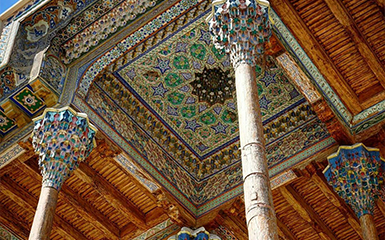 architecture of mosque