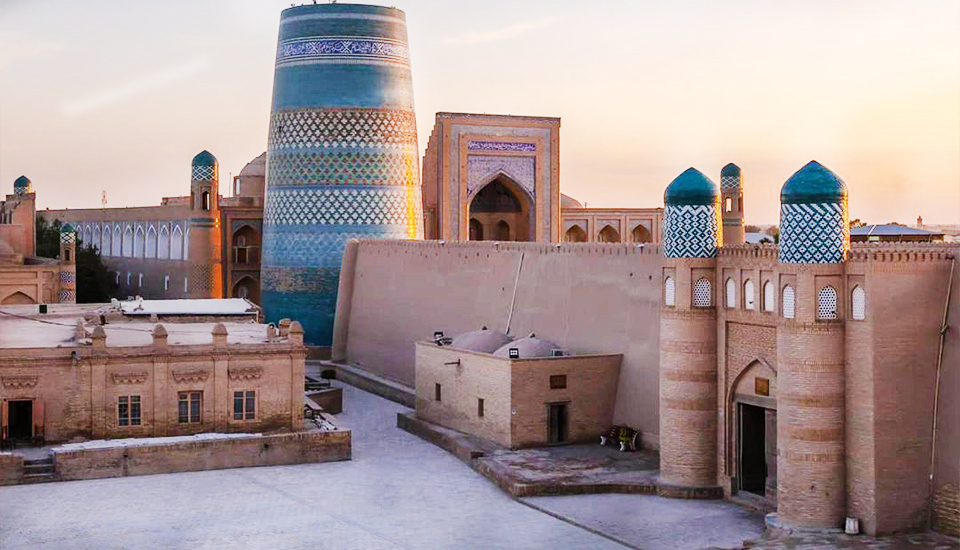 The Kalta Minar, which means "short minaret", is a minaret located in Itchan Kala, a fortified district of Khiva in Uzbekistan which is inscribed on the UNESCO World Heritage List in 1990 under the reference 5431 it was built in 1852-1855.
The minaret was built by order of the ruler of the khanate of Khiva, Mohammed Amin Khan who intended to make it the highest minaret in the East. Its diameter at the base is 14.2 meters. It must have risen between 70 meters and 80 meters in height, with a tapered shape, the diameter gradually decreasing. However the work must cease, while the minaret reaches 29 meters in height. It is located on the east side of the Mohammed Amin Khan Madrasah (now the Khiva Hotel).
It is lavishly covered with turquoise-glazed bricks and majolica from base to top, making it a unique example.
According to the historian of Khiva, Agakhi, the construction had to stop because of the death of the khan Muhammed Amin in 1855. Legend says that the Emir of Bukhara, having learned that the khan of Khiva was building a minaret of such proportions, also wanted to build an equally unique one in Bukhara. He would therefore have ordered the master builder of Khiva to go to Bukhara after the construction of the first minaret. But the khan of Khiva would have heard of the affair and ordered the master builder to be killed as soon as the minaret was completed. The architect, having been informed, immediately fled, leaving the work unfinished.
In reality, the work is interrupted because the minaret would have collapsed if it had been still high.
In 1996-1997, as part of a large-scale campaign for the reconstruction of historical architectural monuments of Uzbekistan, and on the occasion of the 2500th anniversary of the city of Khiva, the minaret was thoroughly restored. During the restoration, in particular, unique patterns and inscriptions were restored.
Kalta Minar is known precisely for its unfinishedness, as well as for its unique decor. This is the only minaret completely covered with glazed tiles and majolica. Tiles are dominated by dark green, blue and white colours, and some patterns are turquoise. On the outer walls of the minaret there are inscriptions in the Nastaliq script, which is now used only for the Persian language.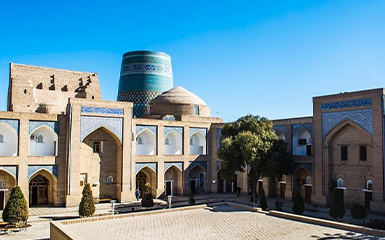 The Kalta Minar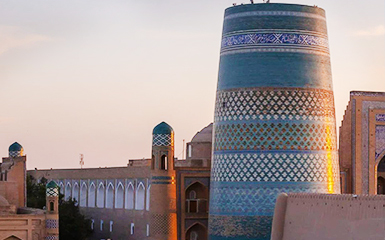 The Kalta Minar