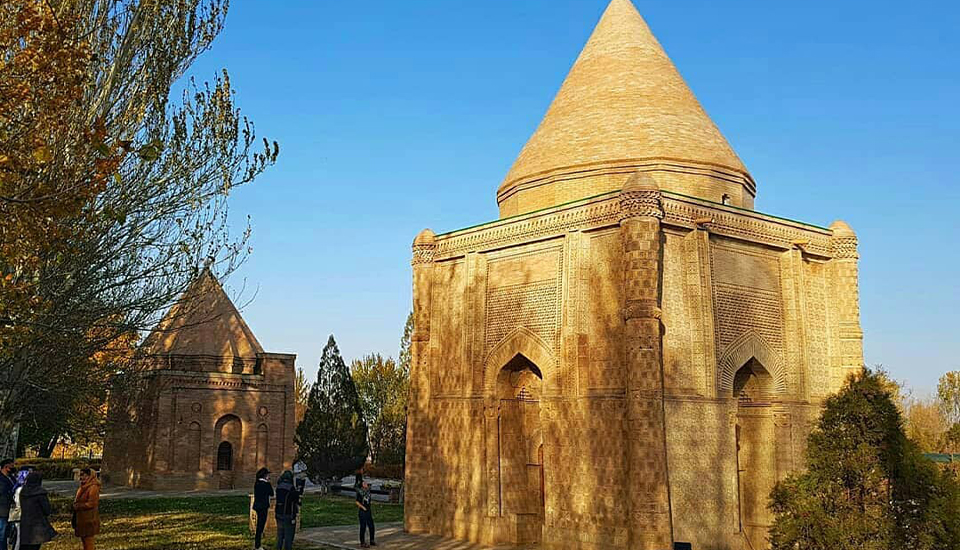 The base of the mausoleum is cubic. Massive columns are placed at its four corners. Small niches, small columns, vaults, pointed arches, terracotta facing tiles were used in the design. The patterns of the mausoleum combine traditional types of ornamental art of the ancient tribes of Kazakhstan, including geometric, zoomorphic and solar motifs rooted in the art of the Andronovo and Saka tribes.
There is no reliable information about the construction of the mausoleum. However, there is a Kazakh legend about Aisha-Bibi's love for her fiancé. There are 28 different versions of this legend. According to the most common one, Aisha-Bibi was the daughter of the famous scientist and poet of the 11th century, Hakim Suleiman Bakyrgani. After his death, she was brought up by Sheikh Aykhoja.
Once the ruler of Taraz, Karakhan Muhammad asked her to marry him, but Sheikh did not agree. She then secretly drove towards Taraz, pretending to lead an army for jihad against the pagans. Unfortunately, her fiancé was never able to see her again, as she died on the banks of the Asa River from the bite of a snake hiding in her headdress. Grieving over the girl's death, Karakhan erected a mausoleum of fabulous beauty at the place of her death. Fellow traveller Babadji-Khatun became the keeper of the mausoleum and after her death was buried 20 steps from Aisha-Bibi in the mausoleum of Babaji-Khatun.
According to another version, Aisha, poisoned by the snake, ordered that Karahan be notified immediately. Karahan did not hesitate to come to her with his doctors and mullahs. Seeing that the doctors were insufficient, Karahan asked the mullah to get them married. After the ceremony, he took the girl's hand and shouted loudly three times: "Aisha, now you have become a bibi", that is, she became his wife.
There are interesting reports about the death in 1034 of the daughter of Talas ruler Bogra-khan, who died on the way to Ghazna to her fiancé Maudud, the heir of Masud. This story is consistent with a local legend that tells about the burial here of a lady named Aisha-Bibi, who went with her maid to her fiancé in a distant land and died on the way .
The mausoleum is in its plan a centric, square structure measuring 7.6 × 7.6 m. The entrance is located on the east side. The corners of the mausoleum were decorated with three-quarter columns. In the centre of the building is a tombstone (3 x 1.4 m). The walls of the mausoleum, 80 cm thick, consist of three parts: the inner one is made of burnt bricks; the outer one is made of slabs with a carved pattern, as well as the space in the middle of the wall, covered with clay and fragments of defective tiles. The walls are covered with archa wood beams for a strong connection of the walls and columns.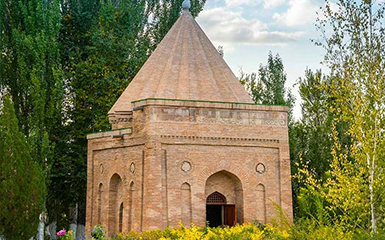 Aisha-Bibi Mausoleum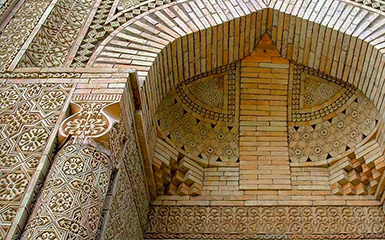 architectural style