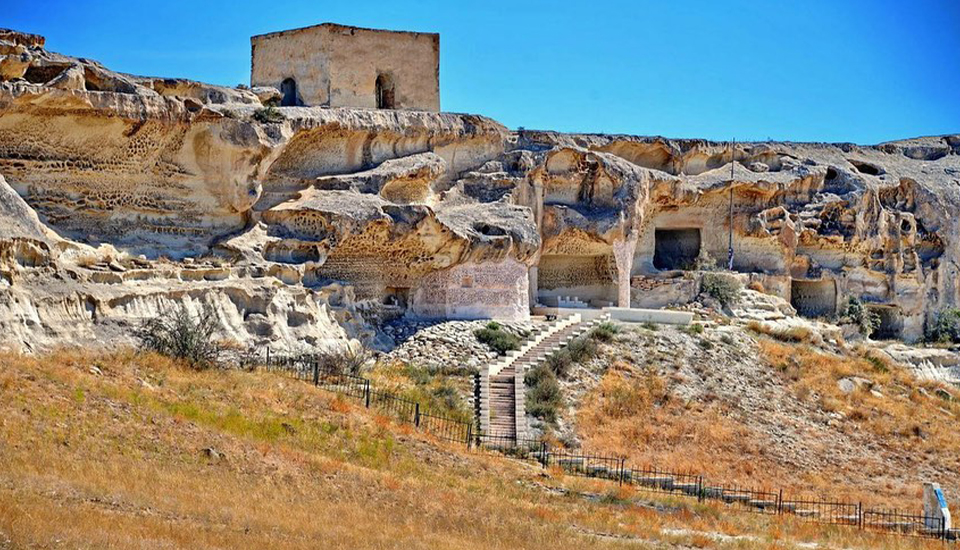 Shakpak Ata underground mosque is one of the most mysterious places in Kazakhstan. It is located in the north-east of the Tub-Karagan peninsula, on the slope of Mount Ungazy. The cave is a temple carved by human hands into the stone slope.
The decoration of the cave mosque, with its pure white colour, immediately feels the unique atmosphere of the ancient temple, as all its buildings are carved into the chalk rock mass. The temple consists of several rooms. Common corridors connect these rooms. There is also an old stone spiral staircase leading to a pavilion on a flat piece of rock. Picturesque images of different periods can be seen on the walls, and the central part and vaults of the mosque are decorated with Arabic script.
The entrance to the building was made in the form of a portal arch. The main hall is crowned with powerful monumental columns that support the magnificent vault of the hall. In the middle of this vault, there is a light well decorated with beautiful patterns. In the western part of the mosque, a mihrab niche and several small cells were arranged for resting. Almost all the walls of the mosque are decorated with various inscriptions, images of horses, riders, prints of open palms and different patterns on plant themes. Among all the inscriptions presented, an ancient Sufi poem about the impermanence of this world and the fact that a person's life is short stands out.
According to local legends, the healer Shakpak-ata once lived in this cave. Many people would come to him to heal their souls and bodies. Even after his death, people continued to come to the underground mosque to find a cure for their troubles. The burial place of the holy Sufi is still a mystery. The underground mosques carved into the ancient rocks of Mangystau are especially revered as sacred places. Moreover, the walls of these mosques are not just stones; they are the only witnesses of the past.
The entrance to the underground mosque is free and open to visitors until sunset. When there are pilgrims inside the cave, especially in the mosque, it is recommended that people be quiet, go to the mosque in closed clothes and avoid revealing clothes.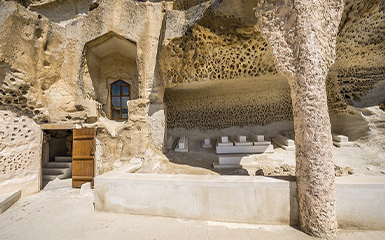 Shakpak Ata underground mosque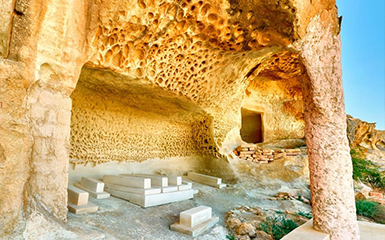 Shakpak Ata underground mosque