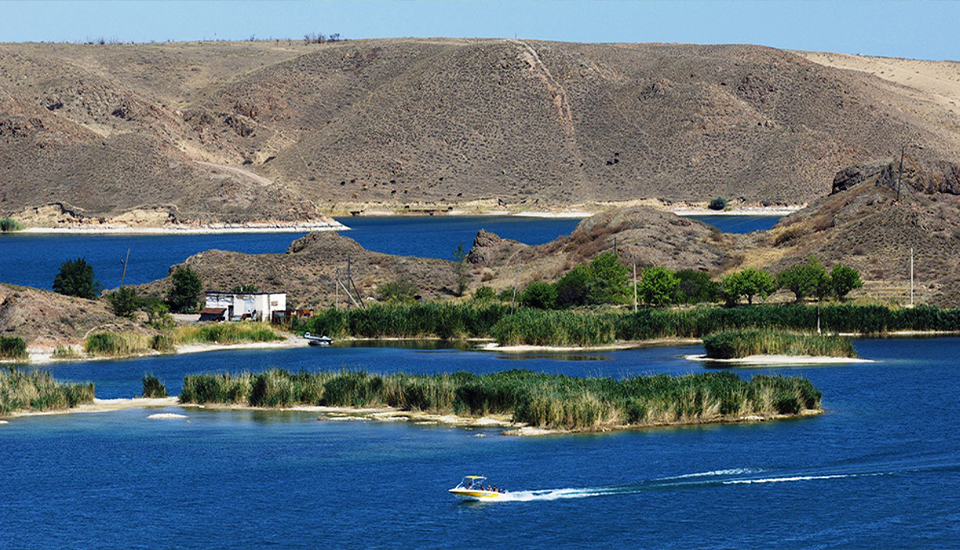 Kapchagay Reservoir or Lake is one of the most important reservoirs in Central Asia, a large reservoir of water located in the Almaty region of south-eastern Kazakhstan, about 60 km north of the provincial capital Almaty. The lake measures 180 km in length and has an area of 1847 km² (37th artificial basin in the world by volume) and was formed following the construction of a hydroelectric power plant on the river Ili, a large river that flows down from the mountains to the east of the lake, and then flows into Lake Balkhash, to the north-west. It owes its name to the city of Kapchagay, located on its western shores, founded in 1970. During the summer months, the lake attracts a good number of tourists from Almaty, who frequent its beaches at the weekend.
On the banks around the reservoir are located: boarding houses, camps, local recreation centres, including small hotels (motels), little expensive beaches for tourists. On the east coast of the reservoir is the Almaty Reserve. The Altyn-Emel National Natural Park is located on the northern coast.
This area is the man-made reservoir, which is a great choice for a short picnic on the way from Almaty to Altyn Emel National Park. Swimming in the warm watery lake is quite enjoyable. You can enjoy the sun and sand. The city of Kapchagay is reminiscent of Vegas with its unique looking casinos but a bit far from rush anywhere. Resorts from the 80's will be a great experience for you. Delicious fish caught from the lake is a great choice for dinner. In addition, water sports and swimming are among the activities that attract tourists. There are a number of private beaches for a small fee for drive-through. Public beaches are more popular, but you may have trouble finding toilets there.
The place where the Marco Polo movie was filmed, about 40 minutes away there is a place on a river with Buddhist rock carvings called Tamgaly-tas. You need an SUV type or a solid vehicle to reach here, as the transportation is on unpaved roads. You will experience the wonderful feeling of the open steppes of Central Asia here.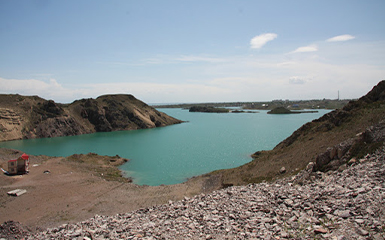 Kapchagay Reservoir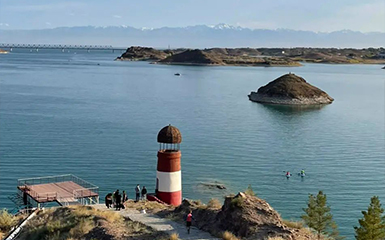 Kapchagay Reservoir