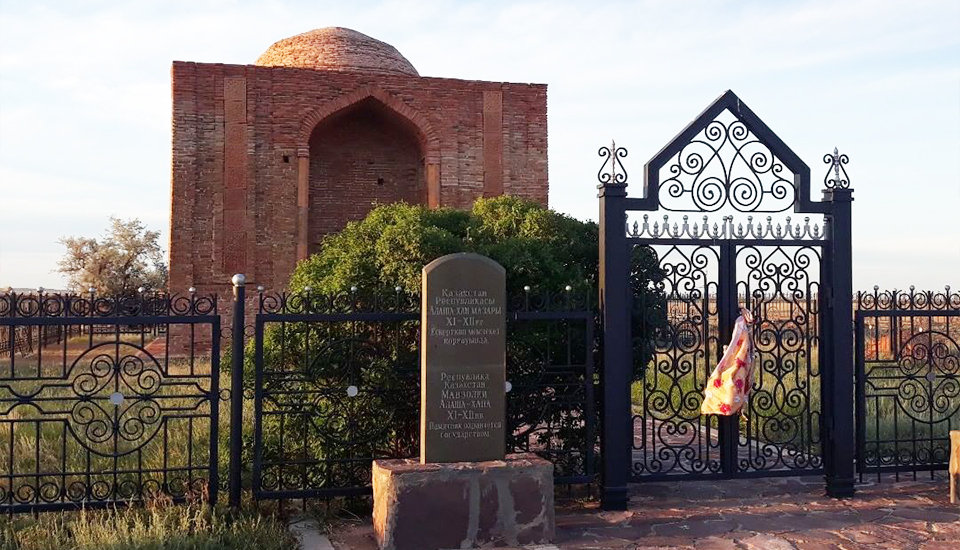 The Mausoleum of Alasha Han, an architecture from the Oghuz-Kipchak period, is located on the right bank of the Karakengir River in the Ulytau Mountains. Artisans in honour of Alasha Khan erected the mausoleum in the XI-XII centuries. Alasha Khan is also famous for the establishment of three Kazakh Zhuz and later became the ruler of the country. He lived in the first half of the XV century.
Mausoleum is an example of proscenium-domical architecture. It is rectangular and 10 m high. The monument is built of burnt brick of various sizes. Windows and doors are decorated with wood. The dome structure consists of a 16-sided drum and a dome. There is a folding door framed with shaped bricks in the middle of the façade. Supported by three hemispheres, six directional columns rise on either side of the façade. Central Asian countries rarely use this style in architecture. A 3.65 m high by-pass gallery connects the first floor of the building with the viewing platforms around the dome. The walls of the mausoleum are covered with geometric ornaments. Due to the violent proportions of the compositional elements, their perfect combination and restrained architectural ornamentation, the building represents a solid and monumental-majestic structure.
Alasha Khan is considered as the ancestor of the tribes that make up the «Alty Alash» (Six Alash). The image of Alasha Khan played an important role in the development of national identity. The Turkestan khan (Kizil Arslan) had a premature son and named him "Alasha", no matter how hard he tried, the khan could not love his son and sent him from Sir to Sariarka. Having matured, the young man soon managed to gather like-minded people around him and gained authority among ordinary people. Alasha was a talented, intelligent man. He was respected as an activist who united the tribes of nomadic Turks and created the first state, Alash (Kazakh state). "Alty Alash" are six tribes that go back to the six sons of Oghuz. After the collapse of the Golden Horde, "Alash" became the slogan of the unification of the nomadic Kazakhs.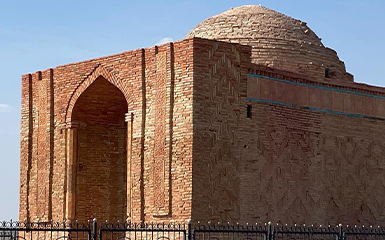 The Mausoleum of Alasha Han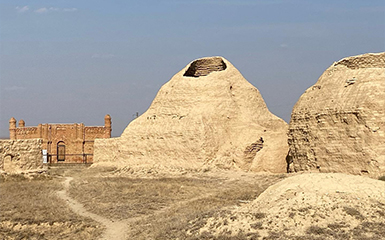 Alasha Han