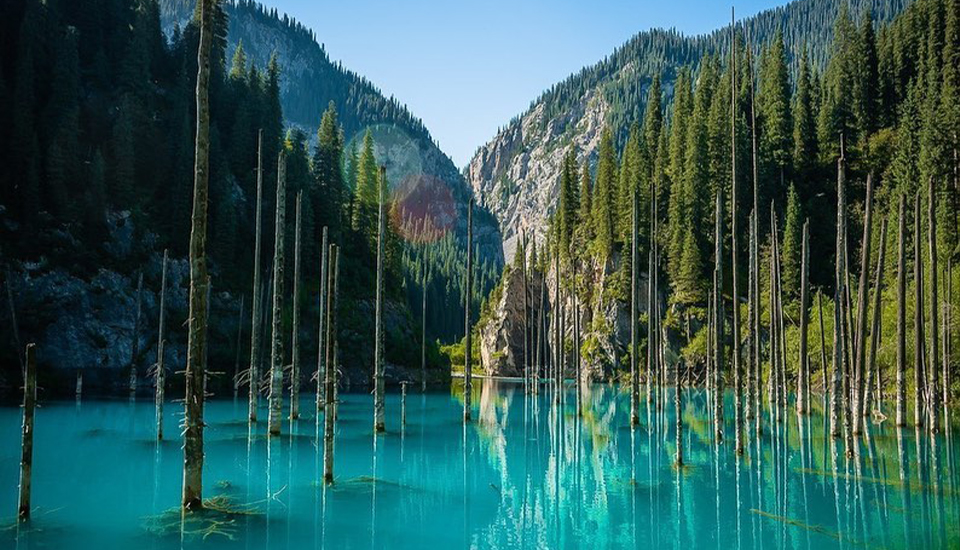 Kaindy is a lake that was formed more than a century ago due to landslides in the Almaty region. In Kungei Alatau, 280 km east of Almaty, it is covered with pine and deciduous forests. The traveller's eyes are somewhat surreal: Tien Shan spruce pillars, resembling sunken ships, seem to rise up to 15 meters from the water.
However, a different picture awaits those who want to enter the water: There are tree trunks covered with mud, reflecting on the surface of the water with the wind and playing with all the colours of the rainbow from the sun.
The current level of the lake has dropped by 10 meters and the spruce view coming out of the water will not be restored. The road to this place was also damaged. The uniqueness of the lake is that after the emergence of the natural dam that closed the gorge, the water filling the dam formed the lake and did not destroy the spruce trees growing along the river here. (The birch river flows into the lake and crosses a two-sided rocky cliff about 20 meters high).
The tops of the trees were white due to the loss of side branches and bark. When you see such a panorama, you see a flooded fleet: bare tree branches look like columns of sinking ships. The surface of the lake is constantly changing colour and is beautiful blue. Lime and other minerals present in the water a hundred years ago cause this magnificent colour. The closer you get to the lake, the clearer the water will be, and you can sometimes see trout. Despite the low water temperature, Lake Kaindy is popular with scuba divers.
Kaindy lake is an idyllic alpine lake. One after another, rainwater filled the valley and formed the lake.
The lake is famous for the number of dead and bleached spruce trees coming out of the water - the remains of the trees that were flooded when the lake was formed. The trees together with the incredible turquoise waters of the lake create an incredible sight. Underwater, the images are even more stunning, as the trees do not rot, creating the surreal image of an underwater forest.
Surprisingly, the lake sees few visitors, in part because the more famous Great Lake Almaty and Kolsay Lakes are all close, but much easier to reach from Almaty, outshining Lake Kaindy. Thus, despite its proximity to a city with a population of over one million, the lake has a peaceful atmosphere.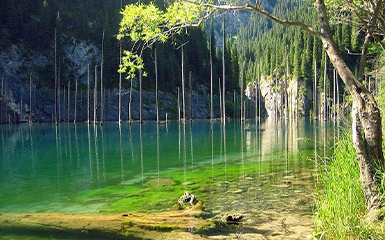 Kaindy Lake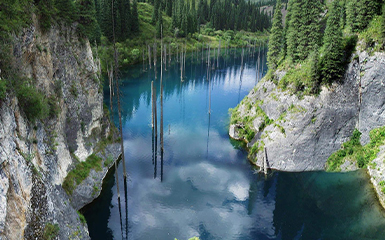 panoramic view