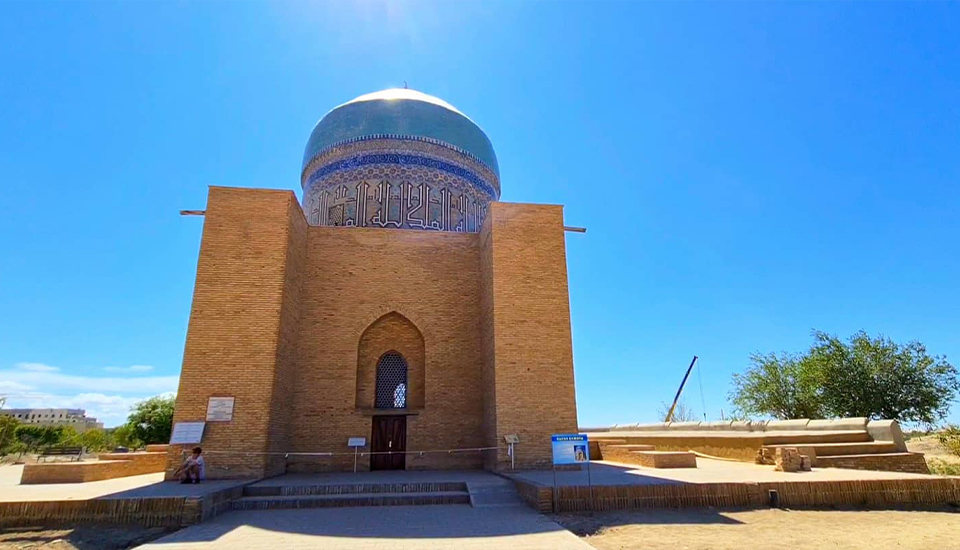 The mausoleum of Rabiga Sultan Begim, dating to the 15th century, is a historical and architectural monument. Sultan Rabiga Begim is the daughter of the famous scientist and astronomer Ulugbek, a descendant of Timur.
The mausoleum is located on the territory of the Azret Sultan Museum-Reserve in Turkestan Province, near the hanqah of Khoja Ahmed Yasawi. The mausoleum was built on the tomb of Rabiga Sultan Begim, the daughter of Sultan Ulugbek and wife of Abul Khair Khan.
Rabia became his fourth wife, but was revered as the main. She was beautiful, educated and politically insightful. Her people and rulers of different tribes revered her, as she was the embodiment of peace and harmony between two warring dynasties - the Timurids and the Shaybanids. Rabia lived in Turkestan for about fifteen more years until her death after the death of her husband. His son and three grandchildren were later buried next to him.
The mausoleum is a beautiful monument of eastern architecture. The middle part is made in the form of a cylinder and is covered with domes. The tomb consists of five rooms. The monument has survived to our time in a very poor, ruined condition. Thanks to restoration work in 1980, the monument regained its original appearance.
The following inscription is written on Rabiga Sultan Begim's tombstone: "This is the final resting place of the noble Rabiga Sultan Begim, the daughter of the powerful, great sultan Ulugbek Guragan, the son of Timur Guragan. God bless all their graves before the Day of Judgment. Rabiga Sultan Begim departed from a temporary home to an eternal abode in one of the months of the year 890 (i.e., 1485) since the migration of the prophet* — may mercy and peace be with him."
The structures located in the immediate vicinity of the mausoleum have predominantly sacred functions. These include the Friday Mosque on the Kul Tobe hill, a hundred meters south of the mausoleum, a domed bath, and a place for a hilvet or fasting prayer in Ramadan, an underground cellar, the tomb of Yesim Khan.
Most of these buildings, including the pentagonal city of the XIII-XIV centuries, have only recently been restored. The small mausoleum has a tiled turquoise dome and is a replica of the 15th century original that was destroyed in 1898. The entrance is through a beautiful rose garden.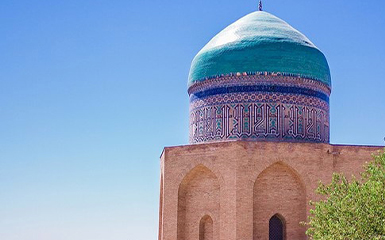 mausoleum of Rabiga Sultan Begim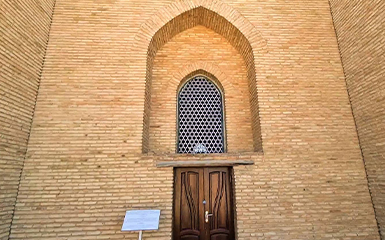 inside