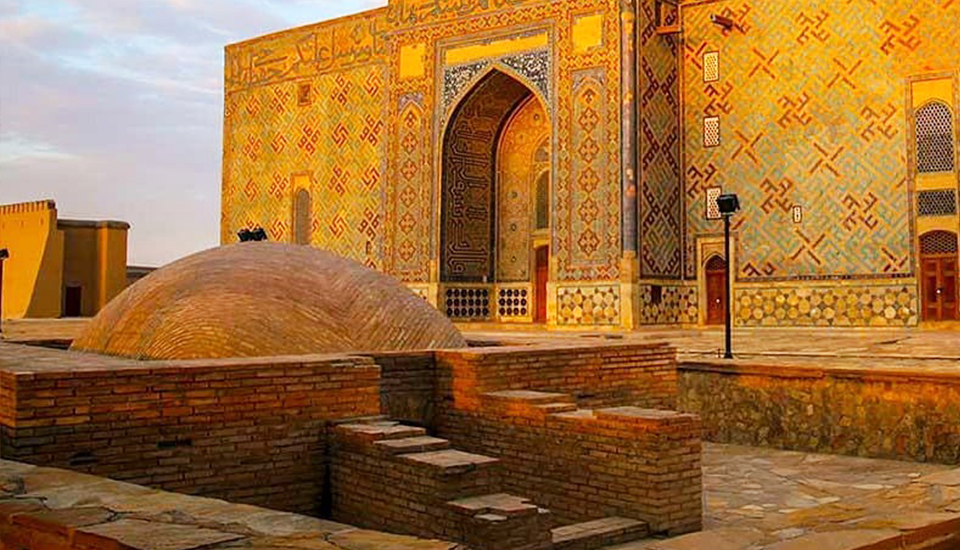 Hilvet underground mosque has a unique structure. It was built in the 12th century and was in use until it was closed by the Soviets in the 20th century.
This semi-underground mosque is well worth a visit while seeing the mausoleum of Hodja Ahmet Yasawi, which is the main attraction. The mosque is down a series of stairs and was built around the hole where Hodja Ahmed Yesevi went into seclusion when he was sixty-three years old, that is, at the age of the Prophet Muhammad's death. The structure was called "kylut" and the purpose was to devote the rest of his life to religion. He died six years later at the age of 69.
The mosque has beautiful wooden columns and is filled with some exhibits on Sufism with limited English subtitles. Also beautiful models of the mosque made by German historians.
The mosque was reopened after the Republic of Kazakhstan gained its independence and is now a museum and tourist attraction. Used for private religious teachings, it has 18 rooms and seven doors, as well as bathroom, hot water and kitchen areas. Once inside, you descend the stairs towards the mosque, where you will see wooden columns on square brick plinths. The columns seem to date from the 19th century.
Some parts of the masjid are still used today, so silence is important when visiting the mosque. Quite a few parts of the mosque are on display, and what is of interest is the original model, which shows the cramped spaces and initially difficult access via a wooden staircase. Several round brick vents are used to allow air flow from the surface. The area where Hodja Ahmed Yasawi isolated himself is just beyond the mosque. A wooden grate closes it and access is not allowed. On the wall in this room, there is a portrait of him sitting in the dark room, dimly lit by several old oil lamps.
The oldest exhibition is located in the masjid area. A copper cauldron similar to that of the main shrine. 12-15. century is dated. The mosque used for Friday prayers is directly opposite the underground mosque and the ancient hammam is a short walk from the path. The tomb of Hodja Ahmed Yasawi is in the mausoleum nearby.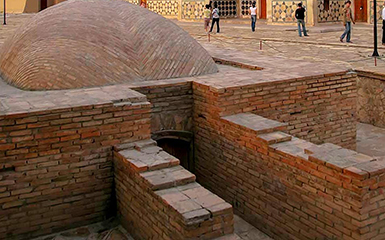 Underground Mosque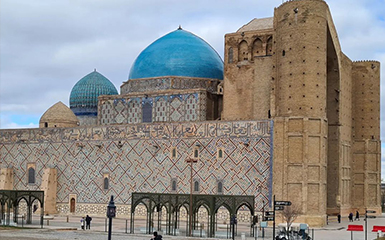 Mausoleum of Khoja Ahmed