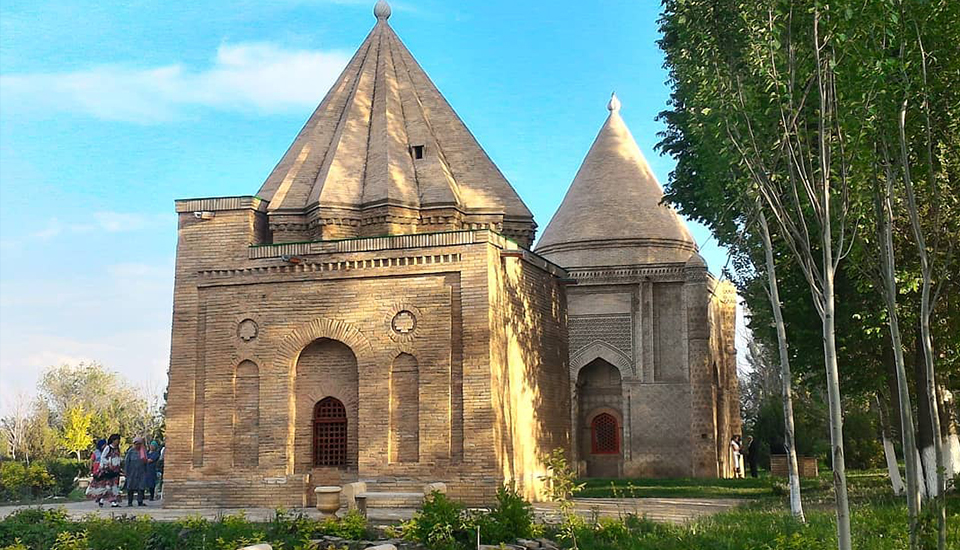 The mausoleum of Babaji Khatun is a mausoleum of the Karakhanid era (XII century), located in the village of Aisha-bibi of the Zhambyl region of the Zhambyl region of Kazakhstan, 18 km from the city of Taraz. The author and the builders are unknown. Since 1982, it has been under state protection.
The legend about the construction of the Babaji Khatun mausoleum is directly related to the legend about the construction of the Aisha-bibi mausoleum. There are 28 different versions of this legend. According to the most common one, Aisha-bibi was the daughter of the famous scientist and poet of the 11th century, Hakim Suleiman Bakyrgani. After his death, Sheikh Aykozha brought her up. Once the ruler of Taraz, Karakhan Muhammad asked her hand in marriage, but her master did not agree. Then she fraudulently went to Taraz. Unfortunately, her fiancé was never able to see her again, as she died on the banks of the Asa River from the bite of a snake hiding in her headdress. Grieving over the girl's death, Karakhan erected a mausoleum of fabulous beauty at the place of her death. Fellow traveller Babaji Khatun became the keeper of the mausoleum and after her death was buried 20 steps from Aisha-bibi in the mausoleum of Babaji Khatun.
The portalless mausoleum of Babaji Khatun has an almost cubic shape; its dimensions are 6.9 x 6.9 x 5.0 m, the thickness of the walls reaches 1.23 m. It is built of light-fired brick with dimensions of 25 x 25 x 4.5 cm. The architectural composition is simple ... Three facades of the building (except for the western one) are decorated with niches and medallions. The main facade differs from the side ones only by the presence of a parapet. On the parapet of the main facade, there is an inscription in Arabic: "This is a tomb called Babaji Khatun ... Its Builder ..."
The planes of the walls of the facades are decorated with false arched windows and niches. Above the windows, there are circles of bricks made of curly masonry. Decorative niches and medallions are framed in the shape of the letter "U" from a rectangular cross-section groove made in the masonry of the wall. Above the frame is a jagged horizontal strip formed by double bricks, angled towards the outer wall. The same stripes run around the top of the parapet and the drum on which the dome rests.
The transition from the walls to the octahedron and the dome is masked by tromps. The building of the mausoleum is crowned with a faceted drum, which served as the basis for a 16-ribbed conical dome, which has not survived to this day. In 1981, the dome was reconstructed. The eastern facade is in line with the eastern facade of the Aisha-Bibi mausoleum.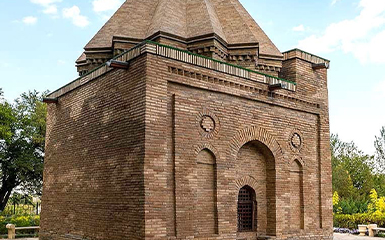 The mausoleum of Babaji Khatun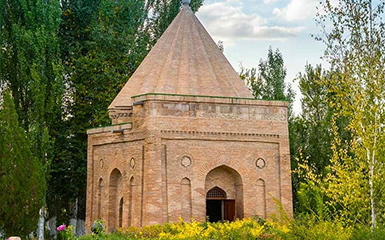 The mausoleum of Babaji Khatun