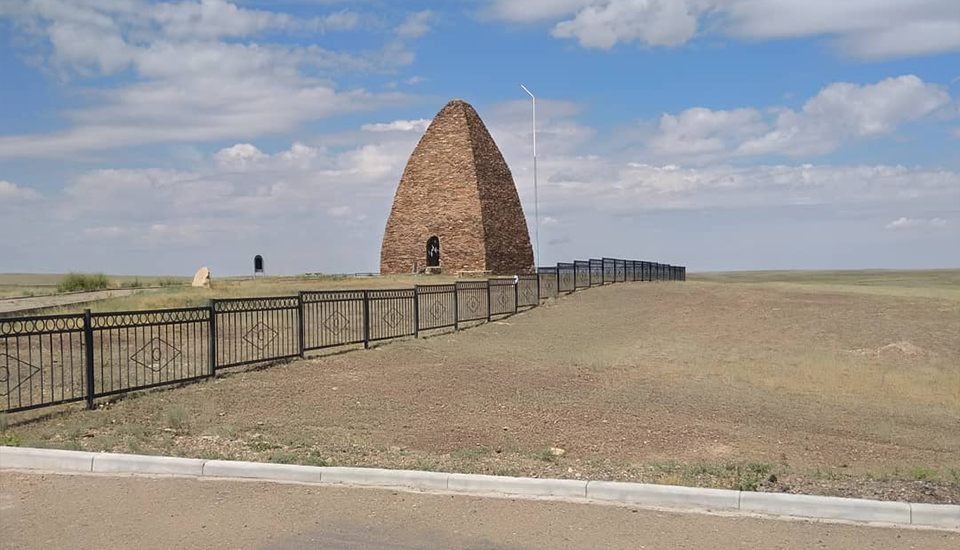 Kozy Korpesh - Bayan Sulu is a lyric-epic song of the Kazakh people, sung since the XIII-XIV centuries and published in the middle of the XIX century.
The traces of Kozy Korpesh and Bayan Sulu are not only in the song, but also in the tomb of the two lovers. This mazar is located in the East Kazakhstan region, Ayagoz district, about 10 km from the Tansyk railway station, on the river Ayagoz. The total height is about 12 meters. The base of the tomb is in the form of a rectangular pedestal. The area is 7.10x7.10 m on the outside, 3.38x3.38 m on the inside, pointed upwards and domed. The walls are made of granite shovel and straw mixed with clay. The door faces east. There are different opinions about the date of construction of the monument. Some researchers say that it was built in the V-X centuries, and another says that it was installed in the X-XI centuries. During this period, human sculptures were carved in stone and were highly valued. There are various reports about the construction of the Dome of Sorrows. According to one of them, Aybas built the dome together with 50 thousand people. Stones were brought from a nearby mountain. Along the Tau and Ayagoz rivers, thousands of people from many tribes lined up on horseback and passed from hand to hand. They carry stones from three streets (90 kilometers) and build a dome from the high peak of Ayagoz. The dome is not worn out yet, it is a sign behind them, not forgetting them.
According to the lyric-epic about the tragic love of Kozy Korpesh and Bayan Sulu. Sarybai sees in his dream he will have a son and Karabai sees in his dream he will have daughter. They tell their dream to each other and promises to marry their children to each other. While hunting, Sarybai dies before he see Kozy born. Kozy and Bayan, who had not met yet, but grew up bound by the bonds of a prenuptial agreement, eventually fell in love with each other. Over time, the stingy Karabai does not want to marry his daughter to an orphan and tries to give it to Kodar, a local wrestler who once saved his herd from starvation. A barrier between the two lovers, Kodar crosses the line and brutally beheads Kozy. Bayan is determined to avenge her loved one. She tells Kodar that if he gets water from the well, he can marry her. As the cheated Kodar descends to the bottom of the well, holding on to Bayan's hair, the cunning girl cuts her hair. Kodar falls into the well and dies. Avenging her lover's death, Bayan comes to her lover's grave and kills herself with a dagger.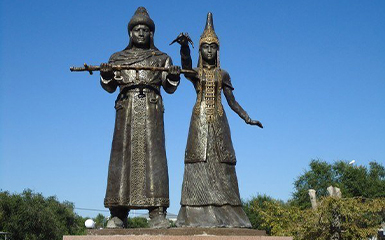 Kozy Korpesh - Bayan Sulu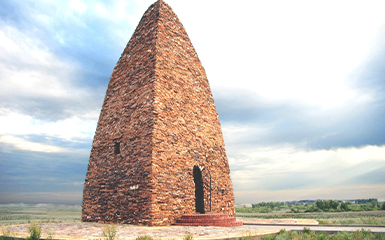 the tomb of the two lovers