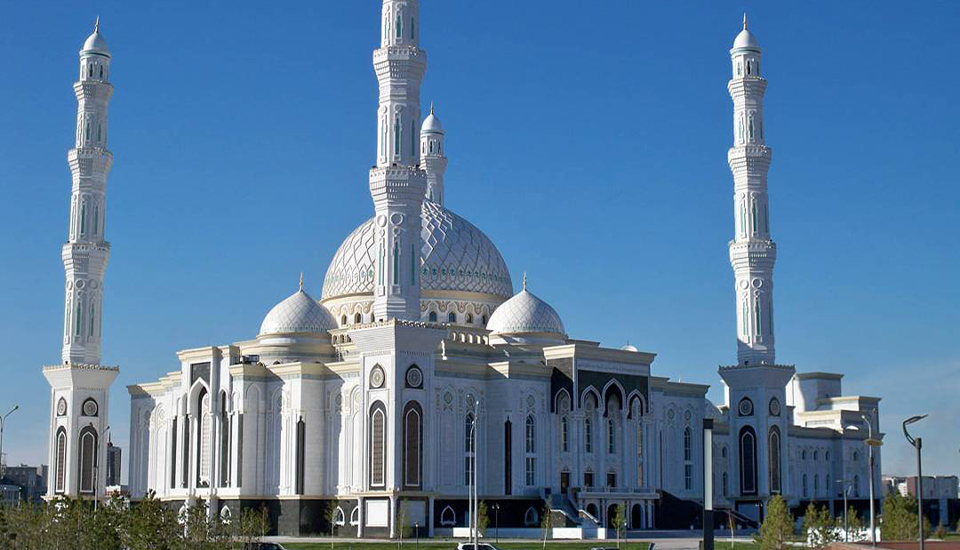 The State Historical-Cultural Reserve-Museum "Azret Sultan" was established on August 30, 1978 as the "National Museum of the Hodja Ahmed Yasawi architectural complex". In 1989, it was reorganized as "Azret Sultan" on 28 August. There are many historical monuments such as the world-famous Khoja Akhmet Yasawi Mausoleum, Rabiga Sultan Begim Mausoleum, Hilvet underground mosque and an old hammam. 25 thousand valuable works are exhibited in the museum. Azret-Sultan Museum remains the most visited museum in Kazakhstan.
The total location of historical and cultural monuments that have received state certification is more than 557 hectares, which includes 207 objects: one of them of international significance, 16 of national, 14 of local significance. Studies to determine the status for other objects are in progress. Mausoleum of Khoja Akhmed Yesevi, which has international importance as a unique masterpiece of medieval architecture, was included in the UNESCO World Heritage List in 2003. In addition, the monument is a special place and a national pantheon.
The reserve museum currently includes 99 historical and cultural monuments located in the city of Turkestan and in 12 rural districts of Kentau. There are 70 monuments in the preliminary list. These monuments were identified during the discovery of the Turkestan archaeological detachment of the Azret Sultan Conservation Museum and submitted for status.
There are architectural monuments of the middle Ages and XIX-XX centuries, archaeological monuments and sacred objects in the area of the museum. Headquarters garrison with the Barracks, they are the only structures protected from the building complex of the Turkestan garrison from XIX-XX centuries. Medieval architectural monuments are Headstone of Kainar Kushek Sultan, Citadel fortress wall, mausoleum of Khoja Akhmed Yassawi, Rabiya Sultan Begim mausoleum, the Hilvet underground mosque, East Bathhouse, the Mausoleum of Yesim Khan, and Khan ordasy. Archaeological monuments are Saukym ata settlement, settlement Sidak ata, Hillfort Ikan, Kultobe, Sauran, The ancient settlement of Karatobe (Sauran), Shaugar-Shoytobe. Sacred objects are Uyrek ata mausoleum, tomb of Zhalauly ata, burial ground Saduakas ata, mausoleum of Menduanа ata, the mausoleum of Gaukhar ana, mausoleum and well Ukashala ata, mausoleum of Alkozha ata, underground mosque Kumshik Ata.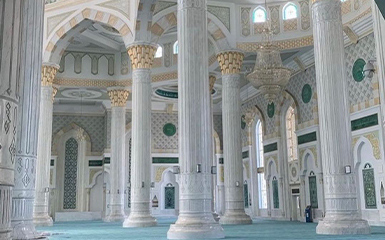 inside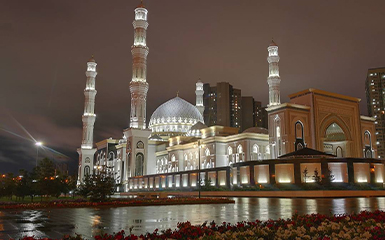 Hazrat Sultan Mosque