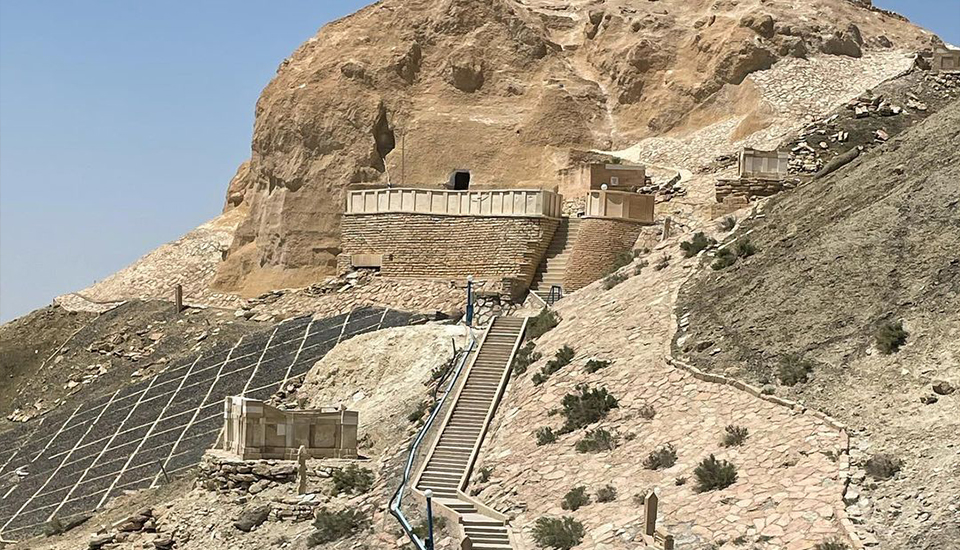 Beket-Ata Underground Mosque is located in the province of Mangystau, 290 km from the city of Aktau. A good asphalt road leads to the mosque, so getting there would not be a problem. The closest settlement to Beket-Ata Mosque is Kyzylsay village. There you can find signs that will allow you to move towards Beket-Ata Mosque. Before you reach the mosque, you will see another landmark - Shopan Ata Underground Mosque. Visitors always stop here to pray before going to Beket-Ata Mosque.
Visitors from all the surrounding areas try to see the Beket-Ata underground mosque at any time of the year, because there is a legend among the people that you can protect yourself and your loved ones just by mentioning Beket-Ata's name.
Beket-Ata founded a Sufi school in this underground mosque carved into a high rock. Here he taught literacy, preached, and helped people with wise counsel. This underground mosque was his last home.
Inside the mosque, there are four separate rooms carved into the rock. Beket-Ata is buried in one of them. In the next room, where only women are allowed, is the tomb of her sister Akkuash. While leaving the mosque, it is customary to leave the cemetery without turning your back in order not to hurt the souls of the people buried here, as in all of Central Asia.
Beket-Ata Mosque is located on the border of the Ustyurt plateau. Its distance to Senek, the nearest settlement, is 115 kilometres. In addition, about 150 kilometres from the nearest city, Zhanaozen, to the mosque. It is hard to believe, but at the end of the last century, visitors had been passing this far by foot. Nowadays most of them come here by car. For a long time it was only possible to go to the mosque by dirt road, which created some difficulties. Nevertheless, more recently, a highway has been laid to the mausoleum. Some residents of Western Kazakhstan complain about this new way. It was previously thought that receiving blessings from a saint was possible only by following a difficult path. However, when people come here in comfortable conditions in air-conditioned cars, there is no difficulty in this.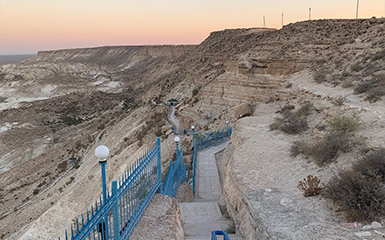 Beket-Ata Underground Mosque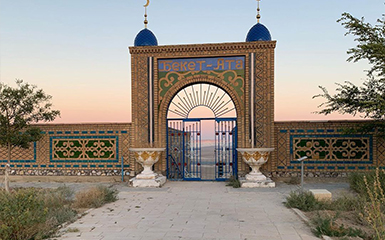 entrance