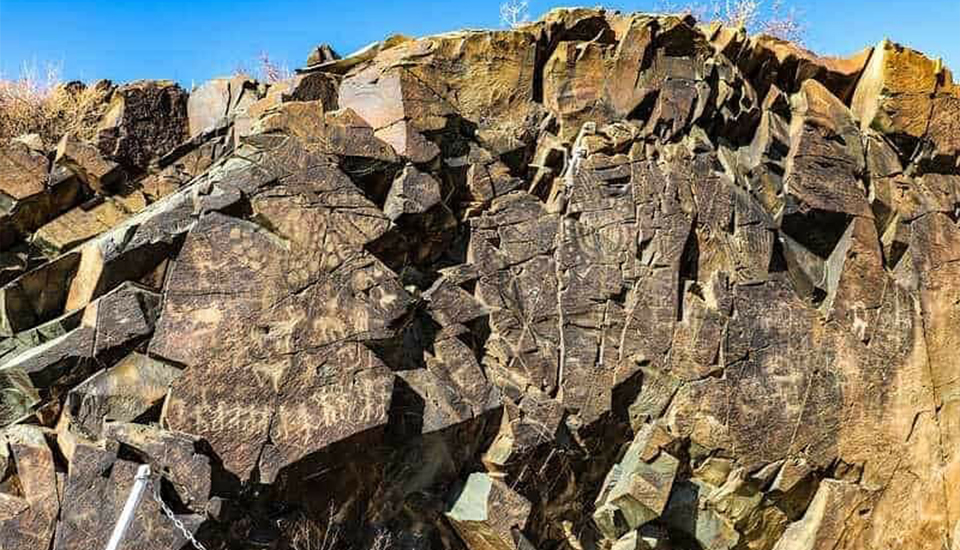 More than a hundred different monuments are known on the territory of the Tamgaly reserve - settlements, burial grounds, altars and accumulations of petroglyphs, concentrated on an area of about 900 hectares and dating from the middle of the 14th-13th centuries BC to the turn of the XIX-XX centuries.
The most ancient inhabitants of Tamgaly were the tribes of the Bronze Age of the Andronovo culture in the 2nd millennium BC. The core of the complex at all times remained a canyon, on the rocks of which, conventionally designated as groups I-V, about 3000 petroglyphs have survived. Nearby, at the foot of a solitary mountain, there is a vast necropolis, where the most ancient burials were made in the XIV-XIII centuries BC, on the foothill plain, mounds of nomads of the first millennium BC stand out as separate groups - I millennium AD, including a mound with stone ridges - "mustaches".
This entire territory, including the canyon with petroglyphs, has been a cult zone since ancient times, within which people did not live, but visited it for ceremonial purposes. The daily life of the inhabitants of Tamgaly proceeded on the periphery of the tract, here are found the remains of ancient settlements and camps.
The most striking sight of Tamgaly is a small canyon formed at the mouth of the gorge. Here, on the bends of the valley, rocky slopes sometimes come close to each other, forming an almost closed space. The vast and smooth surfaces of the cliffs are covered with a "desert tan", which served as the perfect backdrop for the creation of rock paintings.
For many centuries, the rocks of the canyon with petroglyphs and the narrow valley of Tamgaly retained the significance of a sanctuary - a place where ritual ceremonies took place, magic rituals were performed, worship of gods and ancestral spirits. Petroglyphs of Tamgaly are the most important source and have great artistic value.
Drawings of the Bronze Age differ in size, on average 25-30 cm, sometimes up to 60-70 cm and 1 m. Along with images of animals such as wild bulls, horses, kulans, deer, wild boars and wolves in the repertoire there are fantastic anthropomorphic characters, disguised as animal skins of a monster with bent hooked arms, courageous warriors with clubs and battle axes, as well as deities with radiant halos around their heads - sun heads. Many petroglyphs of Tamgaly of the Bronze Age are unique in the rock art of Central Asia.
Petroglyphs of the Early Iron Age are just as numerous. The graceful drawings of Saka artists were created next to the petroglyphs of the Bronze Age, but more often on top of them, roughly overlapping the ancient images. Hunting for wild animals, pursuing deer or goats by predators were the main themes of rock art. The image of an elephant with a rider looks unusual - a vivid evidence of the interchange of cultures from the era of the Great Silk Road.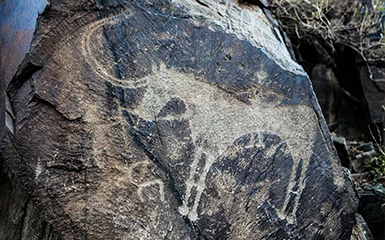 inhabitants of Tamgaly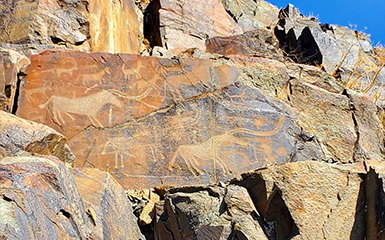 inhabitants of Tamgaly