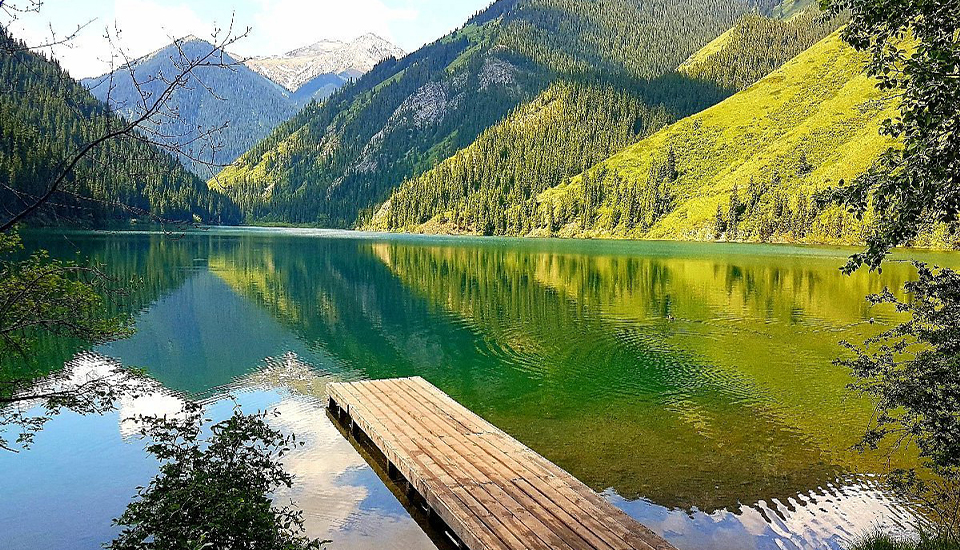 Kolsai Lakes National Park is located in Raiymbek and Talgar districts of Almaty province of Kazakhstan.
The park includes the Kolsai Lakes and the picturesque Kaindy Lake; they are part of a lake system on the northern slopes of the Tian Shan Mountains in southeast Kazakhstan, 10 km from the Kyrgyzstan border. With 72% of the area under strict protection and only 13% devoted to tourism and recreation, nature conservation is an important part of the park's mission.
The park's lakes are located along the Kolsai River, which flows south to north from Tian Shan. The two mountain ranges of the Tian Shan form them: Kungey Alatau and Ili Alatau. The northeast corner of Issyk-Kul Lake is located on the south side of Tian Shen, 30 km south. Major lakes are:
Lower Kolsai Lake. It is a natural mountain reservoir formed by landslides blocking the Kolsai River. The lower lake is about 1 km long, 400 meters wide and 80 meters deep. It is accessible by road and has shelters and camps. (altitude 1818 m)
Central Kolsai Lake. Located 5 km above the lower lake, the central lake is the largest of the three Kolsai lakes and reaches a depth of 50 meters. (altitude 2252 m)
Upper Kolsai Lake. The center is 6 km above the lake. Fir trees and alpine meadows surround the upper lake. (altitude 2850 m)
Kaindy Lake. Located 11 km west of Kolsai Lakes, Lake Kaindy is on the Chilik River. The lake is known for its mirror-like reflection and underwater stumps of dry fir trees rise above the surface. It was formed in 1911 when an earthquake caused a landslide that blocked one end of the valley.
The park is located in the Tian Shan Mountain Steppe and Grassland Ecoregion, which encompasses the middle and upper elevations of the Tian Shan Mountains in Central Asia. The region receives enough rainfall to support grasslands and forests, and due to its isolation, it is home to many rare plant and animal species.
The climate in the Kolsai Lake District is "Humid continental climate, temperate summer subtype". This climate is characterized by large variations in both diurnal and seasonal temperature, with mild summers and cold winters. On July 10, temperatures may change range from 30 Celsius (86.0 °F) during the day to -five Celsius (23.0 °F) in night.
There are hostels and camps in the nearby town of Sati. There is a 25 km hiking trail starting from the lower lake, passing through other Kolsai lakes, passing through the Sary-Bulak pass (3,278 km) and descending to Issyk-Kul lake. The route takes three days on foot or one day on horseback.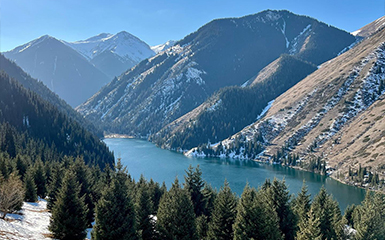 Kolsai Lake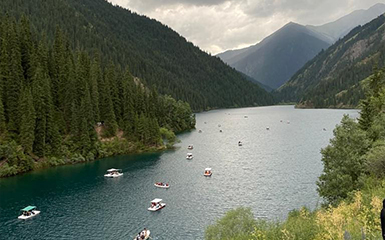 Kolsai Lake